Market Outlook: Still bullish in mid-May despite seasonal headwinds
I thought I would post a few charts here to set the context for the stock market outlook, looking at key trends that investors should be aware of.
Investor Sentiment: Still prefers bonds or mixed asset funds
First of all, how bullish are investors towards equities? Not so bullish, judging by the following charts of investor fund flows in the US and UK...
In both cases, investors have poured more money cumulatively since the beginning of 2017 into bond and mixed asset (allocations to equities, bonds and other assets) funds than into equity funds. Interestingly, in both the US and UK, domestic equity funds have fared particularly poorly. This, in spite of the strong performance of both domestic equity indices over the last year or so...
Chart 1: US mutual + ETF fund flows (source: ICI)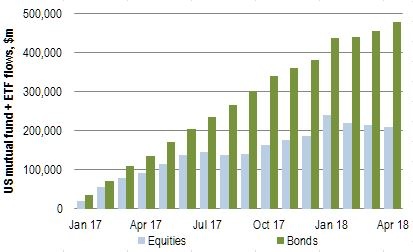 Chart 2: UK fund flows (source: Investment Association)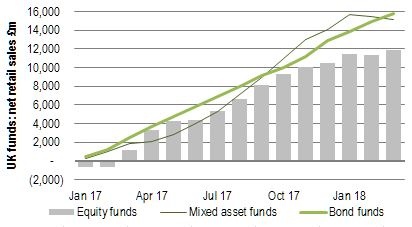 If we look at a composite indicator of investor sentiment like CNN's Fear & Greed index, we see only a neutral reading right now, despite the strong rebound in stock markets since the March lows.
Chart 3: Neutral on CNN's Fear & Greed index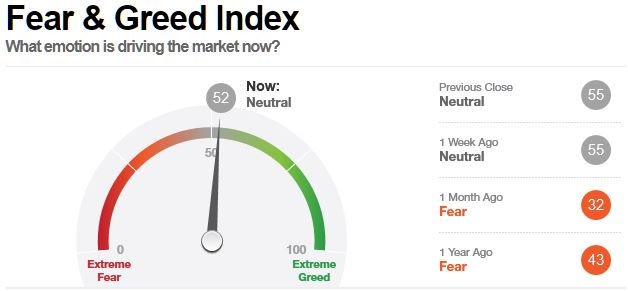 Key asset markets: Bonds, FX, Commodities
Before moving to look at trends in stock markets, let's first look at current key trends in other asset markets such as bonds (fixed income), FX (currency) and commodities. 
As far as bonds go, I continue to monitor the 30-year US Treasury yield, to see if it is going to break out from the 3.23% resistance level that has remained in place since 2014:
Chart 4: US 30-year bond yield pushes to break out of long-term resistance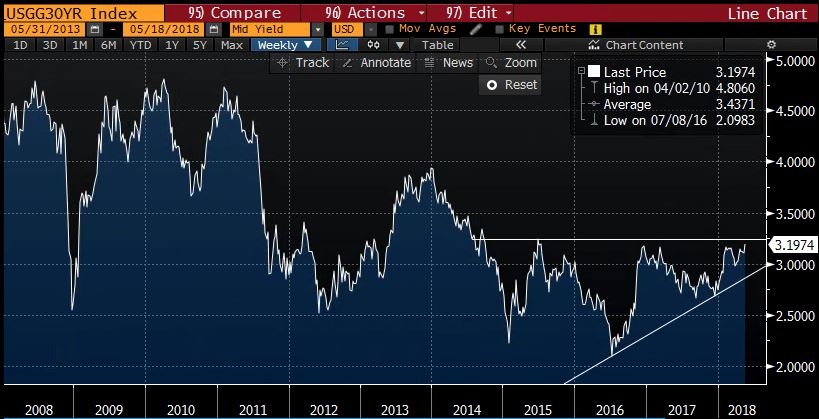 I figure that eventually this will break, but perhaps not yet... 
Moving to currencies, the key trend remains the strength of the US dollar, which continues its counter-trend move higher, putting ongoing pressure on sterling and the euro, which are both still depreciating against the greenback.
Chart 5: King Dollar continues to recover ground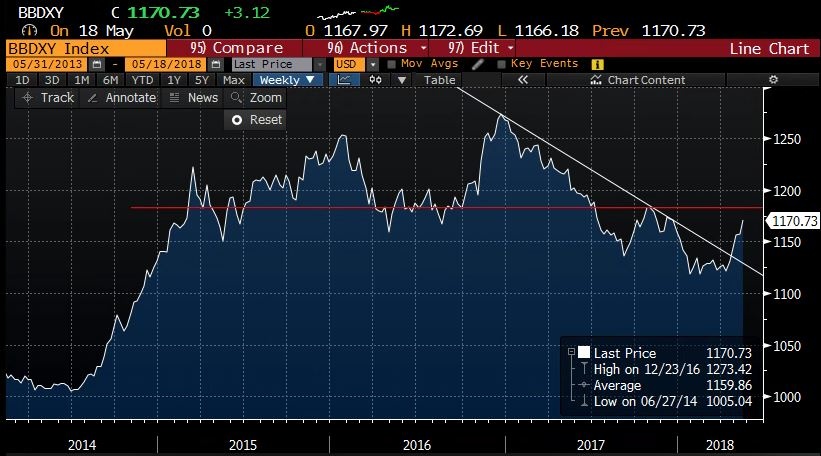 In the commodity space, the key bull trend continues to be oil, with Brent crude challenging the $80/barrel level for the first time since late 2014...
Chart 6: Continued ascent of oil prices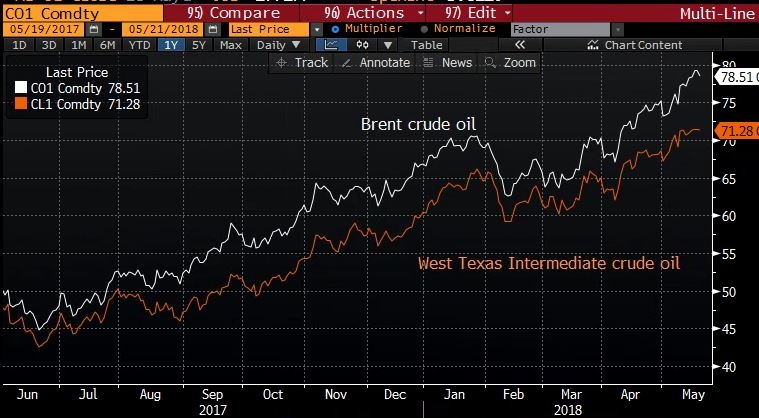 Stock markets: Still a bullish tilt
Now I have to point out that we are entering what can only be described as the weaker seasonal period of the year for equities, the good old "Sell in May" effect. 
For this, we can turn to charts from the UK Stock Almanac  which illustrates why the months of May to October have traditionally not been particularly kind to stock investors:
Chart 7: Historically, Winter has been good for stocks, Summer not so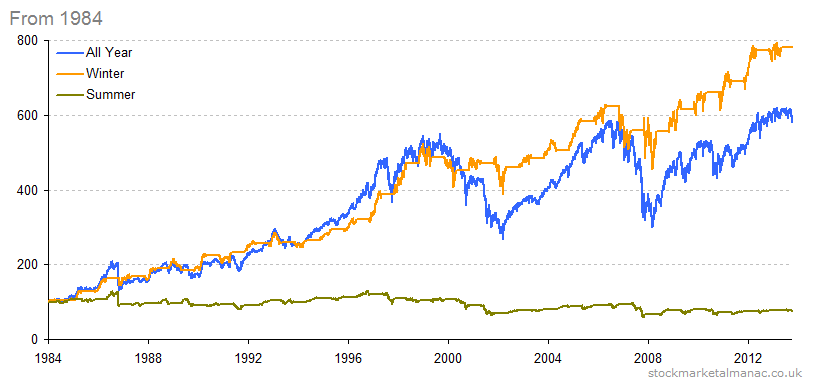 According to this chart, investors in the FTSE UK All-Share index would generally have been better off going to cash or bonds between May and October this year, and only being invested in stocks between November and April. 
However, not so fast! If we then look at these 6-month "Summer" returns in detail, the story is actually not quite as clear...
Chart 8: UK stock market returns 1982-2016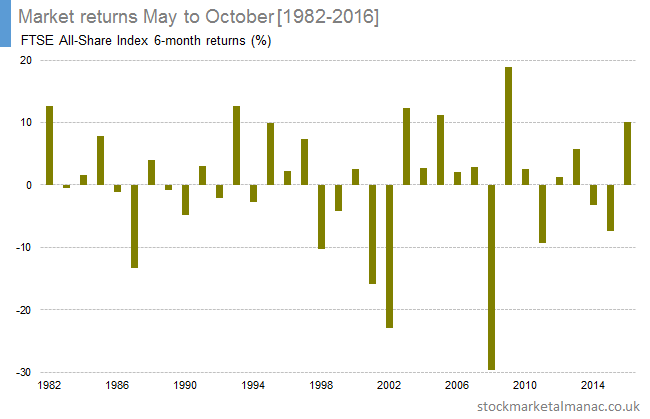 As can be seen, since 1982 the market has actually risen more often than it has fallen over the May to October period –  equities have had positive returns in 20 of the past 35 years. The market has risen in ten of the last 14 years. And last year, 2016, the FTSE All-Share increased 10.1% May to October.

So, the case is not necessarily looking strong to sell in May. Especially, if one adds in the argument that being out of the market an investor will forego any dividend payments over the May-October period (and at a time when interest rates are very low).
To update on this comment from 2017, May-October 2017 saw a 5.9% gain (including dividends) from the FTSE All-Share index, so again a positive performance from UK equities over summer. 
In the US, the dip seems to start rather in July than in May, judging by this seasonal chart of the S&P 500 index over the last 20 years...
Chart 9: US S&P 500 seasonal chart dips dips from July (source: equityclock.com)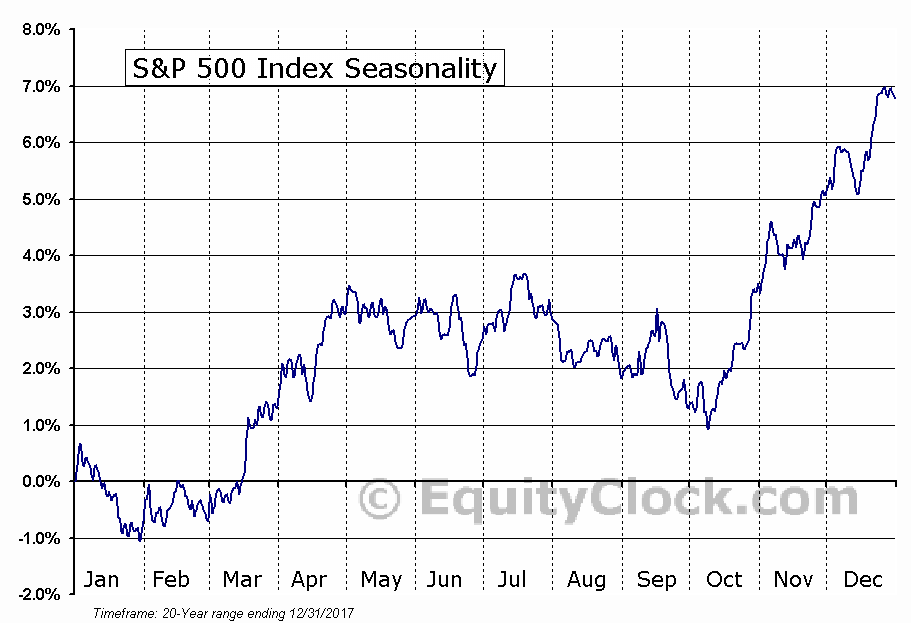 Given that stock markets suffered a correction from January to March of this year, putting a rather large dent in the Winter performance of the All-Share index (only +2% from November 17 to April 18 including dividends), it could well be that the usual seasonal summer swoon is delayed this year. 
Favour UK and US small-caps
In both the US and UK, the segment of the stock market with the strongest upwards momentum remains the small- and micro-cap size segments. In the UK, the FTSE Small-Cap (SMXX) and AIM (AXX) indices have just reached new all-time highs, with a similar phenomenon in the US with the S&P Small-Cap 600 (SML) and Russell micro-cap (RMICRO) indices.
Charts 10 & 11: UK and US small- and micro-caps lead the way higher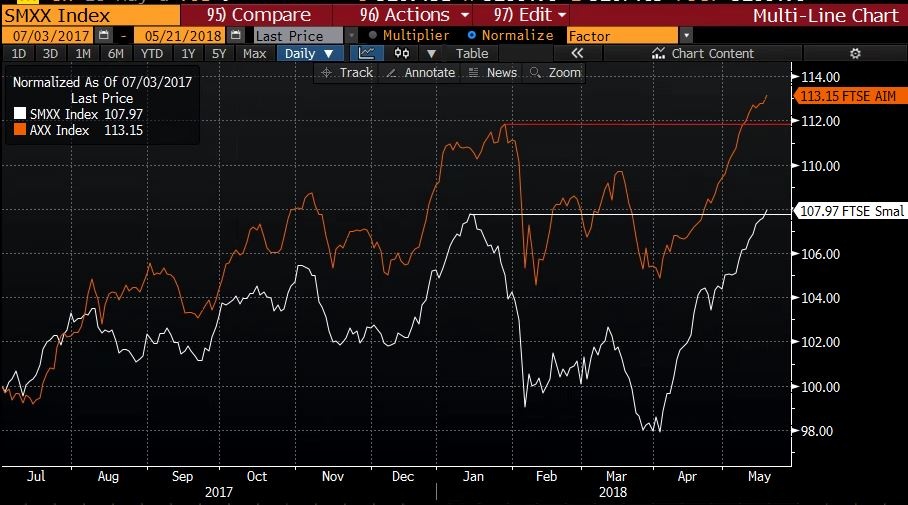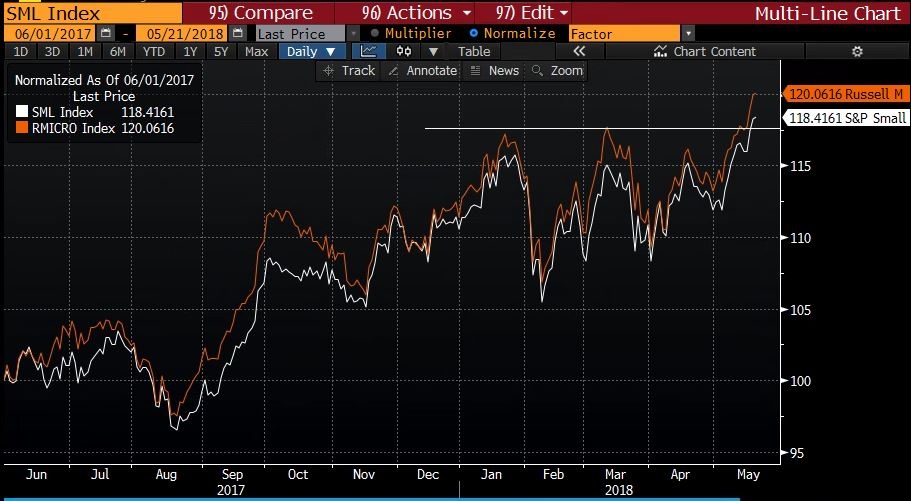 Trend-followers: Stay long oil, stay long small/micro-cap stocks
The conclusion I think is then rather straightforward: stay long oil stocks, and stay long the small- and micro-cap segments of the stock market which have just broken to a new all-time high. Remember, one of the most persistent smart beta factors in stock markets remain momentum, even if we struggle to explain why!
I personally like to combine these two trends in the small-cap oil exploration & production sector, including names such as Rockhopper Exploration (LON:RKH), Hurricane Energy (LON:HUR) and Faroe Petroleum (LON:FPM). 
Disclaimer:
My opinions only, not investment recommendations: Please Do Your Own Research
---
---

Rockhopper Exploration plc is an oil and gas exploration and production company. The Company is engaged in the exploration and exploitation of its oil and gas acreage. The Company operates through three segments, which include the oil and gas exploration activities in the geographical regions of the Falkland Islands, and the Greater Mediterranean region, as well as its corporate activities centered in the United Kingdom. The Company holds interests in North Falkland Basin and the Greater Mediterranean region. The Company's areas of operations include Falkland Islands, which is located in the South Atlantic Ocean, over 8,000 miles from the United Kingdom and approximately 300 miles from South America. Its licenses in Falkland Islands include Sea Lion phase 1 (PL032), Sea Lion phase 2 (PL032/PL004) and Phase 3-Isobel-Elaine (PL004). The Company's interests in Mediterranean region include Guendalina, Ombrina Mare and Monte Grosso in Italy; Area 3 in Malta, and Block 9 in Croatia. more »

LSE Price

Hurricane Energy plc is engaged in the exploration of oil and gas reserves principally on the United Kingdom Continental Shelf. The Company's acreage is on the United Kingdom Continental Shelf, West of Shetland, on which the Company has approximately two basement reservoir discoveries, each containing approximately 200 million barrels of oil equivalent (MMboe). Its licenses include P1368, P1485, P1835 and P2294. The Company has approximately 450 million barrels of 2C Contingent Resources on acreage. Its Lancaster discovery is located in blocks, including 205/21a, 205/22a and 205/26b. The Whirlwind discovery is located across blocks, including 205/21a and 205/22a in the West of Shetland. The Lincoln Basement prospect is located in 205/26b block. The Typhoon prospect is located in blocks, including 204/22a, 204/23c, 204/27a and 204/28a. The Strathmore Prospect is located in the 204/30a block, and contains oil in Triassic-aged sandstones. more »

LSE Price

Faroe Petroleum plc is an oil and gas company. The Company is focused on exploration, appraisal and production opportunities in Norway and the United Kingdom. Its portfolio consists of approximately 60 exploration, appraisal, development and production licenses in the West of Shetland, the North Sea, Norwegian Sea, Barents Sea and the Celtic Sea. Its Aerosmith - PL644/PL644 B is located approximately 20 kilometers from the Morvin and Smorbukk Fields in the prolific Halten Terrace hydrocarbon province of the Norwegian Sea. The Bister Prospect is located in the Norwegian Sea in License PL348 C, which also contains the producing Hyme Field and the Snilehorn discovery, which are adjacent to the producing Njord Field. The Brage Field is located east of Oseberg in the northern part of the North Sea. The Butch Main discovery is situated in approximately 65 meters water depth in the Southern North Sea. The Gullaxy Prospect is situated to the north of the Butch discovery in the Central Graben. more »

LSE Price