Medica Group - Time to take a second look?
Introduction
Medica Group is the market leader in the provision of teleradiology services to the NHS servicing over 100 Acute hospitals. The company offers three primary services to radiology departments to meet varying demands: Nighthawk, Routine cross-sectional (Routine CS) and Routine plain film (Routine PF). These services help departments manage their workflow more efficiently and provide rapid access to specialist Consultant Radiologists.
Nighthawk is an out of hours emergency reporting service focused on short turnaround times, which average 25 minutes, and typically covers reporting on CT scans. Routine CS and Routine PF are both for less urgent daytime reporting. Routine CS covers a combination of CT and MRI scans (both forms of cross-sectional scan) while Routine PF covers plain film images and both services typically have a 48 hour turnaround time.
To make this all work the company has invested in a bespoke IT platform that links customers to Medica radiologists in a secure manner. In theory this is a scaleable platform that allows for growth in existing service lines while also allowing new lines to be added. Nevertheless most of the business capex is around maintaining this platform and providing the hardware which accesses it to hospitals and radiologists; hence further capex will be required as the business expands.
NB: If you're interesting in understanding why someone would become a teleradiologist then this is a good series of articles - one, two, three, four
Stock-specific Analysis
I first stumbled across Medica Group last year when I was looking for a share to talk about at the inaugural Stockopedia StockSlam. At a glance the company seemed to match most of the QARP (quality at a reasonable price) criteria that I look for in an investment and this remains true today: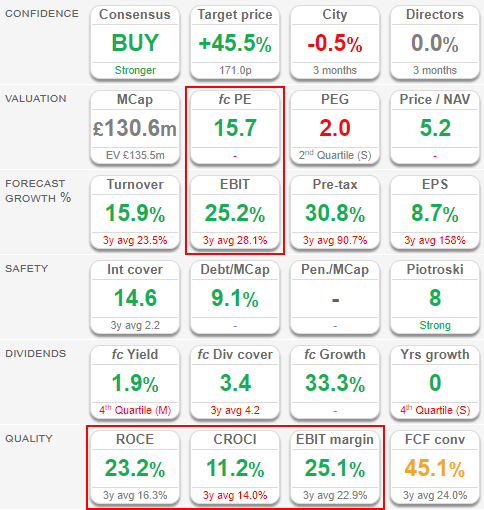 Specifically profit generation looks solid with a high, and improving, EBIT margin and ROCE (where an absolute value >20% is excellent). In addition forecast growth of 25% in EBIT compares very favourably with a PE ratio of just under 16 (although it's fair to say that EPS growth of 8.7% is less than I'd expect given the top-line growth rates). One particular feature which I like is that the ROCE of 23% is greater than the 3-year average of 16%. This suggests returns on capital investment are improving and this is a great place…

Unlock this Article with a 14 day free trial
Already have an account?
Login here