Microsoft and Amazon lead cloud computing boon ripe for investment
But the real star of the show was the 14% constant currency growth in sales from the Intelligent Cloud division, with Microsoft's Azure cloud services product doubling revenues over the same period a year ago.

Chart 1. Microsoft and Amazon Hit New Highs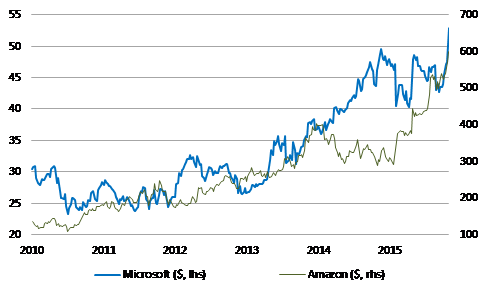 Source: Bloomberg
This mirrors the very strong performance seen in Amazon's quarterly earnings report, with Amazon Web Services posting a very impressive 78% jump in sales over a year ago, driving a surge in Amazon's profit growth.
So two of US Tech's hottest cloud computing giants are hitting new share price highs (Chart 1), joined by the third, the company formerly known as Google, now called Alphabet (US code: GOOGL).
Looking at the growth of the cloud computing sector overall, it continues to be very impressive as more and more companies take advantage of Web 2.0 to produce new disruptive business models.
Think about the impact that new web-based service businesses have had in taking market share: Uber in taxi services, Airbnb in short hotel stays, Netflix in video on-demand and of course the continued boom in convenient, online shopping at the expense of the traditional High Street.
The cloud computing companies that provide the essential web hosting and computing power behind these web-based companies are led by Amazon and Microsoft, but also include IBM, Alphabet (Google) and Salesforce.com (Chart 2).
Chart 2. The Top 5 Cloud Computing Companies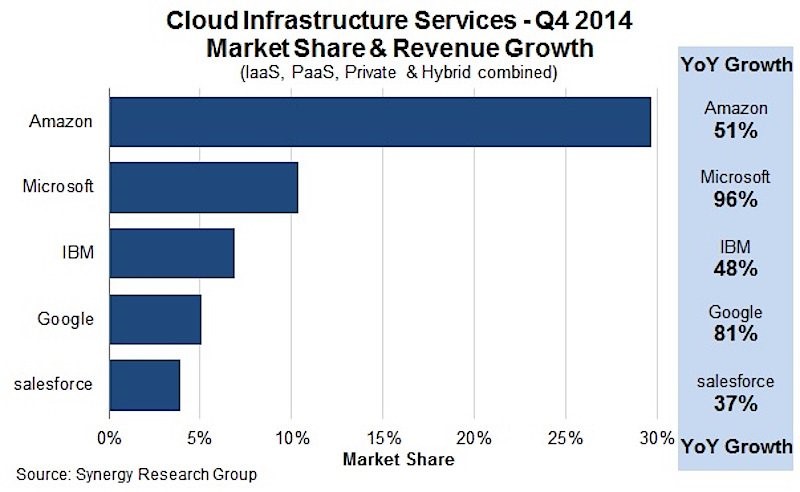 Source: Synergy Research Group
US technology dominates the cloud
Cloud computing is dominated by US technology behemoths. So if you want to invest in the growth of cloud computing, the most obvious way is via buying shares in US tech companies.
You could buy shares in one or a number of these technology giants; however that requires a share account that allows you to trade in US-listed shares, and also requires you to buy these shares in US dollars. This is the approach I take personally, but is perhaps only for the experienced investor who wants to invest regularly in US shares.
ETFs and investment trusts: An easier solution
For investors who do not want to take this more complicated route, a far easier solution lies in exchange-traded funds and investment…

Unlock the rest of this article with a 14 day trial
Already have an account?
Login here