Mitie PLC – Would you and should you 'swing the bat' now at 40.5p?
I am more interested in the potential short term capital gain on Mitie at the moment rather than any income/yield/dividend angle. This looks like the low point in the shares during their current rights issue. Let's draw a line in the sand at the current offer price of 40.5p and see what sort of upside we can see from here.
As a reminder, Mitie are buying the Interserve Facilities Management business and passing the hat around with a rights issue which is 11 new shares at 25p for 5 old shares. The old shares are already ex rights as of Tuesday the 14th July (the shares did not 'crash' 40% on that day, as some 'comics' are suggesting - they were merely ex-rights on that day!). The new Mitie shares will represent a not insignificant 68.8% of the enlarged share capital but Interserve will end up holding 23.4% of that equity (in case you were wondering, there is a 90 day lock up on selling any of the consideration shares and a phased lock up, in potential tranches, after 91 days, see page 110 of the prospectus). It's a fully underwritten rights issue to raise £190 net of expenses. Mitie have also extended their £250m revolving credit facility until December 2022.
As usual, there are about 30 pages of 'risk factors' in the prospectus but we are now at the peak period for the technical situation in the rights issue and to a lesser extent, the 'uncertainty' as to the level of rights issue take up.
Currently, shareholders in Mitie need to get their ducks in a row over the next few days. They will need to decide on their take up, sell any of the nil paid if they want to '"tail-swallow" and make sure they have their funds transferred and available to pay the call at 11am on the 28th of July. If you can see the section of the timetable below that I have cut and paste from the prospectus there are some mechanics to navigate currently.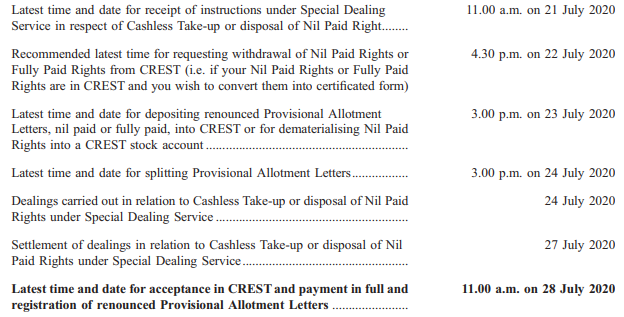 When I look at Mite, all this should not be too problematic as the shareholder list is fairly concentrated amongst institutions with professional back office facilities. Silchester hold 17% of the shares and the whole list below represents about 42% of the Mitie equity prior to the rights issue launch.


Unlock the rest of this article with a 14 day trial
Already have an account?
Login here