Mitie: The rights issue was like trying to run through treacle.
Having expected the shares to start stabilising and stop falling about a week before the call was due the share price continued to decline below 40.5p. Ominously, the shares only managed to consolidate for a couple of days at 35p at the end of last week before limping up to 37.5p early this week while the 25p call on the rights was due on Tuesday the 28th July.

Once the call had been done and dusted, in the end the rights take up was only 93.43%. Less than the 95% or more I would normally expect to see on a rights issue and particularly in the case of Mitie with its concentrated shareholder list I have previously pointed out. Disappointing. As a result, the rump placing was both larger then I would have thought and the price at which it was placed at (31p) was also underwhelming. At 31p that also meant that the rump was placed at the lowest price seen during the rights issue timetable, which hardly ever happens. Concerning.
So….I have to wonder if the previous shareholder list will see a meaningful change in composition from some of the existing holders post the rights issue. The price action over the last couple of weeks would suggest some significant selling of the underlying shares and/or the rights entitlement. 'Tail-swallowing' could have also been a factor here with an existing holder or holders selling down some of their nil paid entitlement to fund the call that they were due to pay rather than committing any fresh money to the name.
I will continue to concentrate my efforts on the large capitalisation companies such as Whitbread in relation to rights issues. I have allowed myself to be side tracked in the small cap space where share prices can move around significantly on one individual institutional order.
Despite the fact that returns dispersion between quality and value has widened over the last year……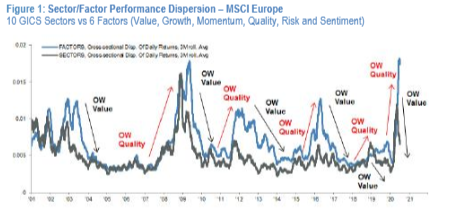 ….'value' might well see some rotation flows going forward but it does not feel like Mitie will participate significantly. Post the rights issue this has an 'overhang' whiff about it rather than a relief rally feeling to the share price.

Unlock the rest of this article with a 14 day trial
Already have an account?
Login here