Miton Group (MGR): My October Stockslam choice
First of all, a big thanks to Damian, Chris and Ed for putting on the latest Stockslam event in the Aldwych, London (Oct 24). Great attendance, and some very interesting stock picks highlighted.
My contribution to this event was Miton (LON:MGR) , following my Harvey Nash (LON:HVN) choice at the inaugural Stockslam event. 
Description: 
- Size: Small cap (market cap. £111m)
- Activity: Fund manager
- Stockrank: high at 94, focused on high quality and momentum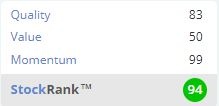 Why Miton?
So let's go through the reasoning for this stock pick in short order:
Firstly an admission: while I have longed loved the high operational gearing and relatively low capital requirements of fund managers, I have lately been far more cautious on the sector given the secular pressures on margins from the fast growth in popularity of low-cost ETFs and the increasing dominance of the largest investing platforms such as Hargreaves Lansdown (LON:HL.) who can squeeze fund managers' fees. 
But this makes Miton's performance all the more remarkable, in my view...
Miton's focus on small-caps (led by veteran fund manager Gervais Williams) and on multi-asset funds (led by Martin Turner) has been very successful, with 91% of Miton's funds in the top or second quartile of performance over different time periods versus their peers. Gervais Williams in particular is extremely well-known in the small-cap space, with over 25 years of experience. 
Growth: The consequent growth in assets under management has been impressive: from £3.35bn in June 2017 to £4.54bn in June 2018, and to £4.81bn as of August. This increase in AUM has been driven mostly by net inflows, not just the increase in market prices. 

Combined with the high operational leverage typical of fund managers (once fixed costs are covered, variable costs are relatively low so marginal profitability on extra AUM is high), free cash flows have been strong.
Momentum: Earnings momentum has been solidly upwards as a result, as evident from the chart below.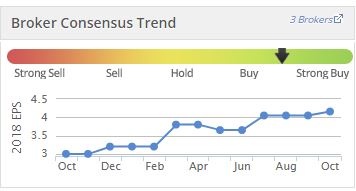 High Quality: Profitability is strong and rising, with a 25% operating margin currently. Return on Capital Employed is not so high, but this is due to a huge net cash cushion of £21m! So an iron-clad balance sheet. 
Valuation:…

Unlock this Article with a 14 day free trial
Already have an account?
Login here