Multibagger with 10 bagger potential - De La Rue - Plan for returning to Profit and Growth. DLAR
De La Rue - Plan for returning to Profit and Growth.


Updated 26 May 2021, with full-year results. De La Rue (LON:DLAR)
https://www.stockopedia.com/sh...
The full-year result out today, was reasonable. Profit and revenue growth expected in the two division currency printing and Product Authentication over the medium term.
My valuation has somewhat reduced with currency growth not expected until FY2023. As a result, I sold some of the positions (spread betting account at 200p), but continue to hold in my ISA for the long-term expected growth.
Based on the following revenue profile ;

The current share price looks like fair value for 2021. The estimated valuation for 2026 is between 380-555p. See graph below.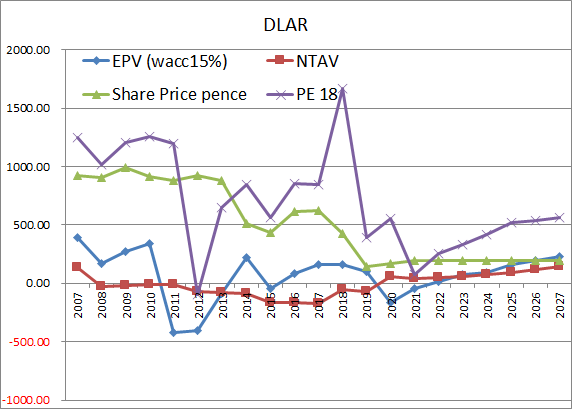 DYOR research
BSV
De La Rue - Accelerating Turnaround
13th Aug 2020
Hit a new low of 41p on the 20th of May 2020. ( Low buy price 48p additional buys at 110p, 120p) - (I hold a long position)
De La Rue plc designs manufacture and delivers banknotes to customers across the world. The Company's segments include Currency, and Product Authentication and Traceability. The Currency segment provides printed banknotes, banknote paper, and polymer substrates and banknote security components
De La Rue (LON:DLAR) looks more attractive every day. Making for an improving business by;
Cost reduction: The Company is enacting an accelerated cost reduction program with a significant proportion scheduled to complete by August 2020. Targeted savings on an annualized basis from H2 2020/21 will be approximately GBP35 million
Raising £100M in new equity to sure up the balance sheet
In Authentication, it has signed a five-year agreement to supply polycarbonate data pages for the new Australian passport. De La Rue's Authentication division has been awarded contracts with total lifetime value exceeding GBP100m
Today announce
'In Currency, De La Rue continues to experience strong demand and has been awarded contracts representing approximately 100% of its available full-year banknote printing capacity for Financial Year 2020/21, an increase on the 80% of capacity announced at its trading update of 1 June 2020.'
Should increase polymer currency sales from £281M to above £320M and provided better margins. Hopefully, they will invest in increasing the capacity with all the money printing going on today.
There's a nice report by Edison if want to…

Unlock the rest of this article with a 14 day trial
Already have an account?
Login here