Multibaggers with 10 Bagger Potential - CARD FACTORY (CARD, BYOT, G4M, VEC, CRL, CMCX, CAR, DLAR)
Card Factory - Lowest cost Producer and Vertically integrated Retailer.
15 Jan 2021
Card Factory (LON:CARD) Had a year low of 25p during 2020 having declined 72% by year-end and looks good value at 38p today.
I was encouraged by the sales numbers (£284M FY 21) during the Covid-19 period and cash how cash has been conserved (probably due to government help ).
After 5 years of poor share price performance (Share price moving from 327p to 38p today) valuations look extremely cheap. With Covid-19 vaccines rollouts in the UK, a full recovery seems on the cards by year-end 2021. Add this with the growth engines of online sales and partner sales the future looks bright ex-covid 19. If free cash can return to previous levels this is a very profitable business.
Sales Estimate FY21-FY26


Evaluation model suggests 150p valuation for year-end 2022, (325p upper-end target for 2026). See the graph below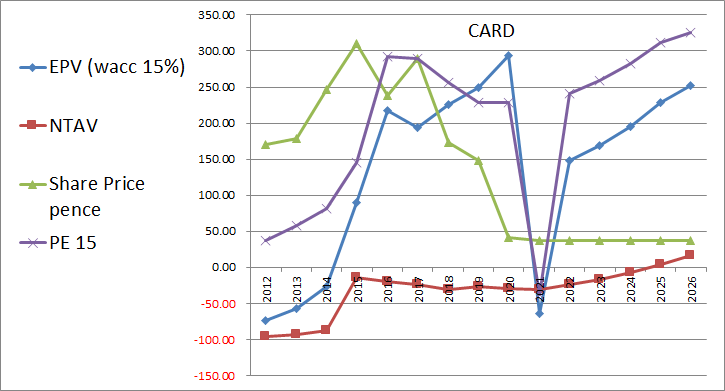 13th Nov 2020
BYOTROL - Byotrol plc is engaged in the development, patenting, licensing, and sale of anti-microbial products and technologies.
Byotrol (LON:BYOT) Had a year low of 1.5p this year and has already multi-bagger at 6.3p today, but this feels like the start of the beginning for this company.
Today's AGM statement was enough to open a new position. Link to statement https://www.stockopedia.com/sh...
( I opened a new long position today, lowest buy price 6.3p).
Byotrol (LON:BYOT) has come of age for a number of reasons including;
Covid-19 driving the importance of anti-microbial disinfectant for surfaces
New regulation requiring that disinfectants will be for use in hospitals and will conform with the requirements of the European Biocidal Products Registration and the UK equivalent that will come into force post-Brexit. This is taking many older products out of the market. Even well-established players in the market like Tristel

(LON:TSTL)

are re-engineering products and finding they need Byotrol

(LON:BYOT)

IP and products. See attached link, Tristel alliance with Byotrol targets hospitals with the novel product, https://www.businessweekly.co....
90% plus sales growth
300% plus EPS growth
Starting to generate positive cash flow and profits.
Sales Estimates FY21-25

Evaluation model suggests 11p valuation…

Unlock the rest of this article with a 14 day trial
Already have an account?
Login here