My Market Musings, 10 May 2020
The Zone of Indecision
To recap the story so far:
Western economies have been in varying degrees of lockdown, and thus economic shutdown, for up to 2 months now.
Stock markets have first dropped around 35% from mid-February to mid-March, and have then recovered a substantial proportion of those initial losses.
We are now at the point where the depth of the economic hit becomes apparent, through macro statistics and company results/guidance.
What we have seen essentially in the main stock market indices over the last month has been a sideways trading range, rather than any obvious trend up or down.
In Chart 1, the S&P 500 ex Technology (SPXT), the Euro STOXX 50 (SX5E) and FTSE 100 (UKX) have seen the earlier upwards momentum from the March 23 low ebb away. In the Directional Movement Indicator (DMI) subchart below, the black ADX line indicates the strength of trend for the FTSE 100.
For a clear trend to be evident, this ADX would need a reading above 20 – but it sits currently at just 15, highlighting a lack of trend.
Chart 1: Stock markets in trading range, no obvious trend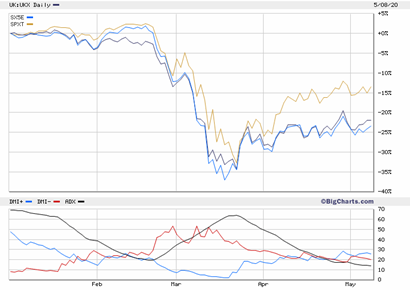 Push-Me, Pull-Me
Stock markets are moving sideways as there is now a push and pull between two opposing forces, the bulls and the bears.
Bull points:
We are about to end lockdowns across much of the Western world, suggesting that economic growth will now start to pick up once again.
Pent-up demand could return to a number of sectors surprisingly quickly, as demonstrated by the sharp pick-up in air traffic volume in the US, or cruise ship bookings globally.
Central banks such as the US Federal Reserve, ECB and Bank of England are flooding the global economy with liquidity in order to offset the economic slump, having acted in record time to combat this collapse in activity compared with previous recessions/crises.
Bear points:
We have not by any means seen the worst of the economic slump in the statistics yet, as mass unemployment becomes evident worldwide.
Companies have no idea how badly the lockdowns will hit their profitability, hence the lack of guidance at quarterly results presentations, even from mega-caps like Apple. So earnings will obviously be hit, but we still struggle to guess by how much, and also for how long.
There will not be any quick return…

Unlock the rest of this article with a 14 day trial
Already have an account?
Login here