My Market Musings, 17 May 2020
End of the Rainbow?

So stock markets have at best traded sideways for more than a month now, with any upwards trend well and truly extinguished, at least for now.
So it would seem that the Halloween Effect ("Sell in May and go away"), is working its seasonal magic, with Continental Europe in particular suffering from a case of the post-rebound blues – as illustrated by the benchmark Euro STOXX 50 index (SX5E) dipping back below 2800 by the end of the week, after briefly touching the 3000 level in late April.
Chart 1: Euro STOXX 50 index edges lower on the week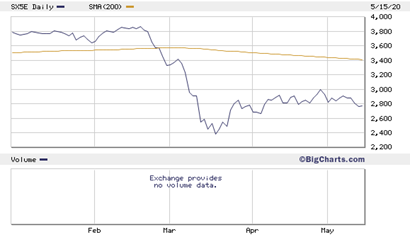 Granted, the US S&P 500 and UK FTSE 100 indices don't look in such poor technical shape, managing to maintain a sideways trading range for now.
Chart 2: FTSE 100 and S&P 500 trade sideways for now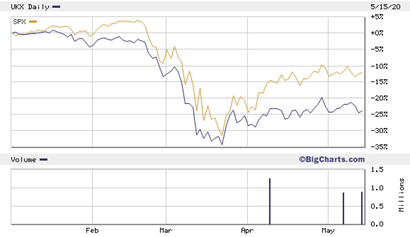 In terms of sectors that are leading the pullback in Europe, I would focus on a number of cyclical industries that are seeing a big drag from (understandably) weak consumer spending, including Autos and Travel & Leisure.
Financials, in the form of Insurance and Banks, are also feeling the effect of gravity as the spectre of paying out on COVID-related insurance claims and a sharp rise in bad loans on the back of rising bankruptcies weigh on these two sectors.
Chart 3: Insurance and Banks show poor form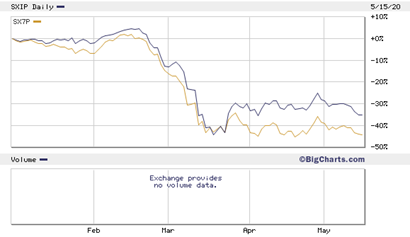 Sectors that resist the drag: Warehouses
While the UK real estate behemoths like Land Securities and British Land are struggling under the risk that office rents will need to drop post-COVID, there are patches of the real estate sector that are prospering, notably warehouses and self-storage.
Chart 4: Warehouse REIT recovers well, British Land not so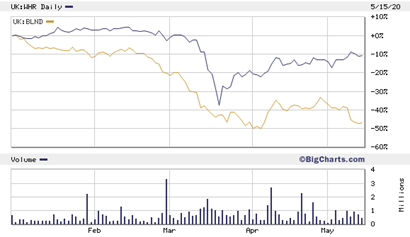 Warehouse REIT (WHR) is one REIT that focuses on warehouses in the UK, is not overgeared in terms of debt with a 40% loan-to-value ratio, and offers a 6.6% dividend yield.
As you can see from Chart 4, WHR has been a strong performer even while Real Estate stalwarts like British Land have struggled, reflecting the underlying demand in the warehouse sector, helped of course by online retail demand.
This is one of the few income plays in the UK stock market that I feel comfortable…

Unlock the rest of this article with a 14 day trial
Already have an account?
Login here