My Market Musings 250520 - Is Food & Drink a poisoned chalice?
Is Food & Drink now a poisoned chalice?

This week, I thought I would take advantage of this Bank Holiday-elongated weekend to investigate a sector of the stock market that has traditionally benefited – that of Food & Drink.
This is an industry that is characterised by stable demand (as it is not tied to the economy), and historically high profit margins thanks to its emphasis on brand power.
Firstly, I have always been struck by the historically strong performance of the Food & Beverage sector in Europe, and indeed globally, over the long-haul.
Chart 1 illustrates this: the bar chart is the STOXX Europe Food & Beverages sector (SX3P) since the last big bear market ended in 2009, compared to the overall European stock market in the form of the STOXX Europe index (SXXP; the yellow line).
Chart 1: European Food & Beverage sector a premium performer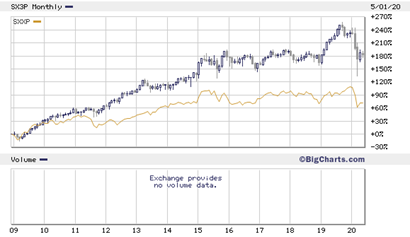 What is immediately apparent is that European food & drink producers (like Nestlé with coffee and chocolate, Unilever with ice-cream and washing powder and Diageo with wine and whisky) have been standout performers over the last 11 years, up 180% when the broad stock market has gained only 75%.
What I also like about European food & beverage companies is their global reach; indeed, this is one of the few industries where European companies have been able to outperform their US competitors over time. Chart 2 compares the European Food & Beverage with the US equivalent, the Consumer Staples sector (XLP), and while I haven't equalised the two sectors for currency differences, in local currency terms you can see the clear outperformance of European companies over the US sector.
Chart 2: European Food & Beverages beats US Staples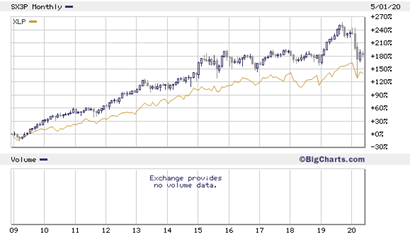 So these globally-exposed food & beverage producers like Nestlé and Diageo been long seen by fund managers as high quality companies, able to produce modest top-line sales growth year after year and maintain high profit margins thanks to their brand power, allowing their products to command higher prices.
But if we zoom in to the last 1 year, there are question marks as to whether this traditional outperformance can be maintained. Chart 3 compares the EU Food & Beverage sector to a broad index of European quality…

Unlock the rest of this article with a 14 day trial
Already have an account?
Login here