My Market Musings: 31 May 2020 - Reviewing the month of May
Reviewing the Month of May

Key macro/market trends to watch:
Equity markets strong in May: led by S&P 500, Nikkei 225, FTSE 100 a laggard
Banks remain weak, in contrast
Euro rebounds strongly against USD, GBP in May, GBP pressured by Brexit uncertainty (once again)
Commodities: Brent crude oil edging higher, Silver starts finally to outshine Gold
Government bonds stall in May, both US Treasuries and gilts mark time
US investment-grade corporate bonds strong in May
Bitcoin has a strong May, edging closer to $10,000 once again
Leading sector themes in May: Video games, Cybersecurity, Biotech, Russia, Gold/Silver Miners, cycling retailers!
Risks: Rising US-China tensions, with the Hong Kong security situation a clear negative catalyst.


Equities: A strong May, but FTSE is the runt
May was surprisingly a strong month for global equity markets, suggesting that thus far, "Sell in May and go away" does not yet apply… Of course, there are plenty of months left before November for this seasonal strategy to work.
The leaders in May have very much been US and Japanese stocks, with the S&P 500 below (candle chart) and the tech-heavy Nasdaq 100 (red line) posting an impressive monthly move, to end up well above its end-February pre-COVID level.
Chart 1: S&P 500 posts a very strong month, led by Tech (again)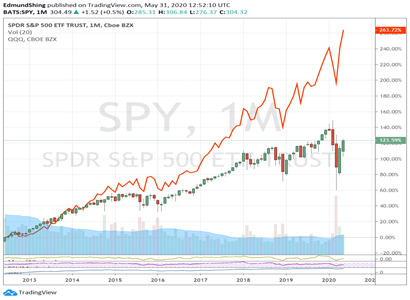 The Nikkei 225 in Japan has also been recovering well, no doubt helped by the industrial pickup in China, combined with the benefit from low oil prices (Japan is a huge net importer of oil). It now lies within 10% of its early 2020 highs.


Chart 2: Nikkei bounces back well in May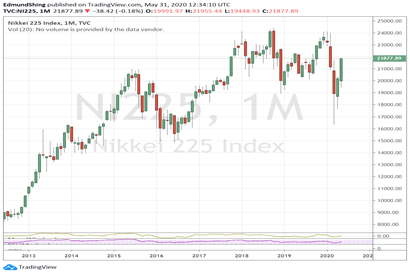 But then we turn to the FTSE, which frankly is a disappointment when set against the S&P 500 or Nikkei. While these two stock indices are within 10% of their pre-COVID highs, the poor old FTSE languishes far behind. Just look at the difference in the monthly candle charts between the FTSE below, and the Nikkei and S&P 500 above!


Chart 3: More of a tepid bounce for the FTSE 100 in May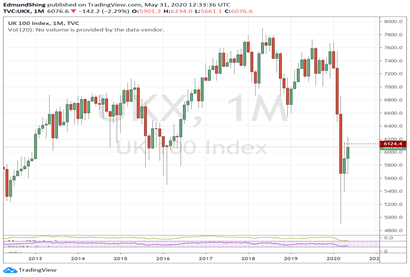 Laggards dragging the FTSE back continue to be the Banks (HSBC in focus due to Hong Kong), Oil & Gas and Telecoms, in the form of BT in particular.…

Unlock the rest of this article with a 14 day trial
Already have an account?
Login here