My Market Themes Mon 10 Feb 2020
1. All Risks Forgotten? Equities close in on highs again
What a different a week makes in the markets! Last week we were worried about the spread of the coronavirus beyond the borders of China, but this last week risk assets like equities seem to have shrugged off these fears.
As you can see from the chart below, US tech stocks in the form of the Nasdaq 100 below (QQQ: the black line) has rebounded to a new multi-year high, up 23% in the past 6 months alone.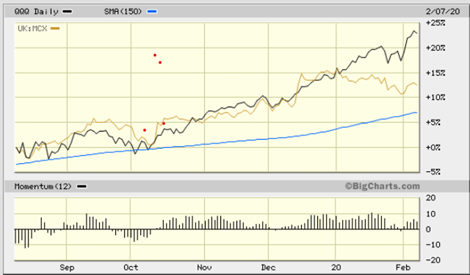 What also piques my interest is the orange line on this chart, representing the FTSE 250 mid-cap index (MCX). From August 2019 up until the end of last year, UK mid-caps kept pace with US tech mega-caps, but this has singularly not been the case so far this year, with the QQQ up 8% since end-year, while UK mid-caps still languish slightly below year-end levels, for now at least.
As you might expect, at a sector level the leading European stocks come from Technology (SX8P), keeping pace with their US peers and outpacing the broader European stock market (STOXX Europe, in orange).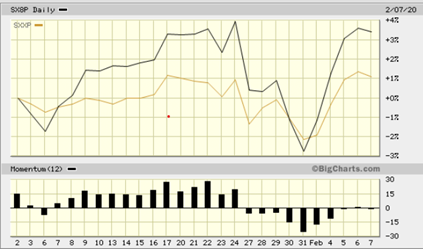 I have to admit that I am personally surprised that so far, the markets have shrugged off pandemic concerns quite so quickly, and remain convinced that further worries may come back in the near term to wobble markets once again, as the extent of the Chinese economic slowdown over Q1 2020 and the knock-on effects globally becomes more apparent.
If however, in the next week of so US stock markets surge to new all-time highs, and drag European stocks to fresh multi-year highs as well, then I may have to admit defeat and follow the continued uptrend that would then be confirmed.
Something to keep in mind: while US markets have been making new all-time highs, this is certainly not true for European or UK stock markets. In the case of the headline Euro STOXX 50 index (£SX5E) of the largest Eurozone stocks, we would need to breach 4500 to return to pre-financial crisis highs (nearly 20% above the current level, let alone the all-time high of well over 5000 points reached back 20 years ago.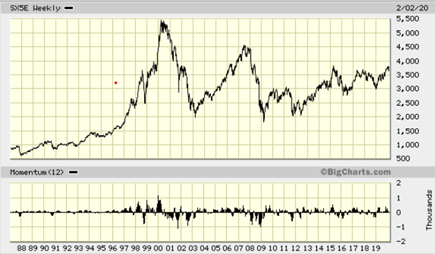 2. China not out of the woods yet…
While…

Unlock the rest of this article with a 14 day trial
Already have an account?
Login here