My Market themes: Sat 11/01/20
Stockopedia is great for sourcing bottom-up information on individual stocks, but there seems to be precious little discussion of overall market themes.
So I want to start posting here on a weekly basis, highlighting global market themes that I spot and find significant for my investing. This is the first edition...
(all comments welcome, of course)
1.Macro trends – liquidity remains strong
Central banks keep pumping liquidity into the global economy: Led by the Federal Reserve,
central banks continue to prop up the banking system, which in turn leads to easier financial conditions and plentiful liquidity, which is a situation that risk assets like equities love.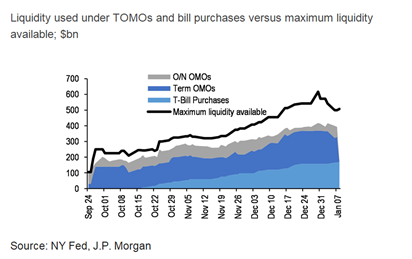 US Primaries (Feb/Mar): Biden consolidates his lead to be the Democrats' candidate:
Joe Biden remains a clear front-runner to be the choice of the Democrats. This is relatively market-friendly, certainly when compared to the more radical Warren or Sanders.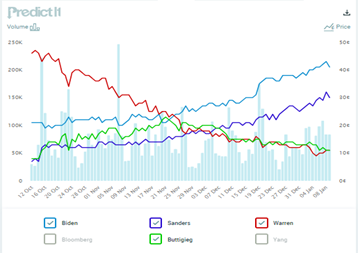 But it is not all plain sailing for markets and risk – Bernie Sanders continues to take the more radical vote away from Warren, and remains a clear second favourite… Were Sanders to catch up to Biden, I think US equity markets might catch a fright and drive a volatility spike.
Eurozone economy picking up sharply! Look at the Eurozone economic surprise index (orange line), demonstrating accelerating positive momentum and outpacing economists' expectations. This means that economists have been too gloomy onb the Eurozone economy, and will need to upgrade their forecasts.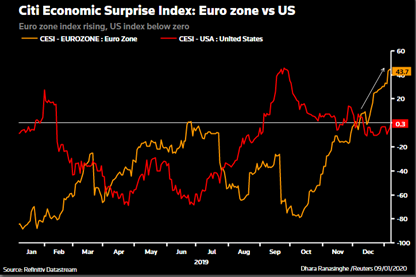 This is generally good for more cyclical sectors and stocks in Europe, e.g. in industry-heavy Germany.
2.Cross-asset trends – gold has been shining
Gold hit a 7-year high this week: driven up by rising fears over US-Iran geopolitical tensions (which have since eased back), the gold price hit a new 7-year high above $1600/oz before dropping back. The trend in precious metals, led by gold, remains solidly positive in the medium-term, driven by central bank easing and fast money supply growth.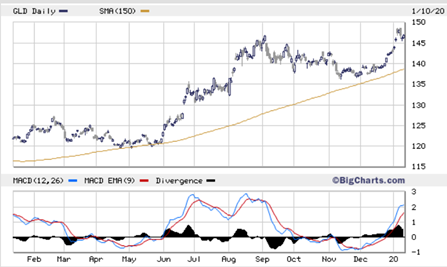 Are long-term bonds back in fashion here? As an example, I show below the TLT ETF which tracks 20-year US Treasuries. Note how this ETF has tested the $135 level 3 times but failed to break down, suggesting that a bounce off this level could be more likely.
…

Unlock the rest of this article with a 14 day trial
Already have an account?
Login here