My Market Themes Sat 18/01/20
1. Macro: UK about to cut rates? Poor December retail sales
A poor end to the year for the UK economy – not good at all for the nation's shopkeepers, with a surprise drop in December retail sales. Well actually, not rally such a surprise if you had been reading the trading updates from UK retailers, which has been by and large a dire affair.
Even the mighty value for money Primark had a tough Christmas trading period. with sales down 0.5% over the lead-up to Christmas, even with market share gains to boot.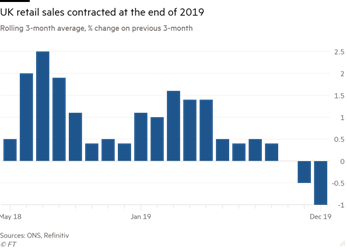 But before we get too gloomy about the state of the UK economy, households are still generally in good form with average wages still growing well above inflation and with house prices resuming their steady rise once again, according to official government data (see below).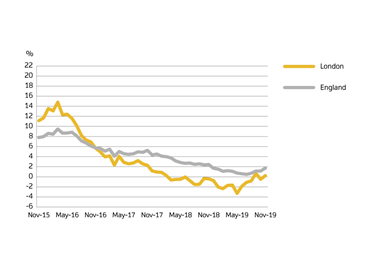 So my guess is that this surprise plunge in retail sales will at least partially reverse in the months ahead, and could well be aided by a Bank of England base rate cut, now priced by markets at around 50% for January following a fall in inflation figures (CPI below the Bank's 2% target now for 5 months in a row).
Elsewhere in the world, the Phase 1 limited trade deal signed between the US and China at least marks a de-escalation in the trade war between the two nations, which is good news for global trade even if it does nothing to resolve the fundamental power struggle between the two countries, and should help to support global growth in 2020.
The JPMorgan Global Composite PMI shown below is evidence that economic activity globally hit a low point in October 2019 (on this PMI measure, a reading above 50 signifies growth, below 50 recession), and has recovered over the last two months, which is a good support for risk assets like stocks and shares.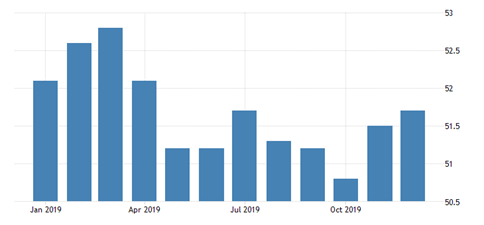 2. Stocks: Why I am getting nervous?
Hints of euphoria: Stock markets are enjoying a good start to the year, carrying on the strong momentum from the end of last year. But even for a confirmed long-term bull like me, I have to admit to becoming nervous. I start to see small signs of euphoria creeping into small pockets of…

Unlock the rest of this article with a 14 day trial
Already have an account?
Login here