My Market Themes, Sat 22/02/20
1. Gold is glittering, right now
While equity markets cooled off on the last two days of the week, "safe haven" assets did well, with government bonds seeing rising prices and falling yields, while gold drove higher to $1644/oz, eclipsing its recent spike higher on the initial fears over COVID-19.
Gold (in $) at highest since 2013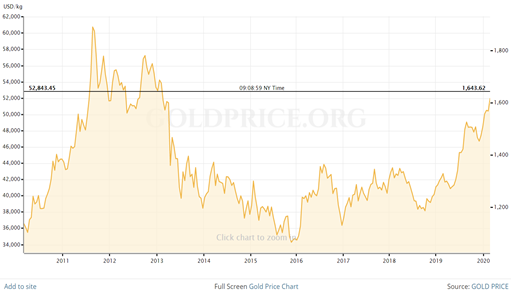 The one fact that tempers some of my bullishness on gold is that it is now a consensual long position, with hedge funds and other investors very positive on the yellow metal. This may suggest that we are nearing a buying climax, with a pullback a very real risk. I remain long for now, but reserve the right to take profits on any hints of weakness.
At last, there is also some respite for stubborn silver investors, like myself. Silver has lagged gold quite considerably of late, but now finally seems to be benefiting from some of gold's lustre.
Silver preparing to move substantially higher, following gold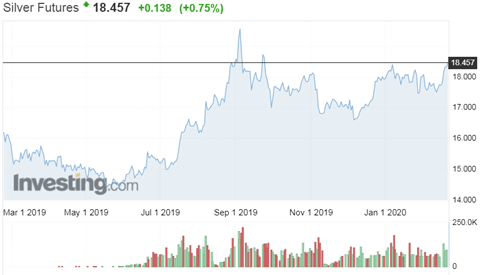 Disclaimer: I hold PHAG silver ETF
Bonds have a good week: The result of this resurgence in caution alongside a higher gold price is a US 10-year Treasury yield back down to 1.47%, while the UK 10-year gilt now yields a mere 0.57%.
US long-term bond ETF climbs higher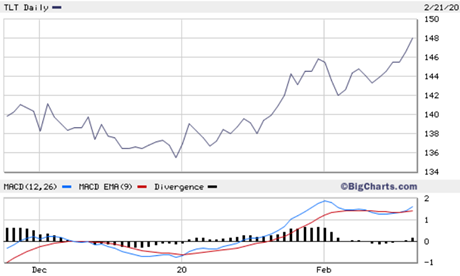 What of stocks? Where does this leave equity markets at the moment? In limbo, for the moment. Momentum growth stocks have been leading the charge higher in recent weeks, classically exemplified by the FANG group of US mega-cap tech stocks (including Facebook, Apple, Amazon, Google, Microsoft). This group suffered a 2% drop on Friday after what has been s very strong run-up over the last few months – I wait to see if this develops into a more serious setback, or will turn out to be just a blip as we saw in late January.
US mega-cap tech stocks take a small step back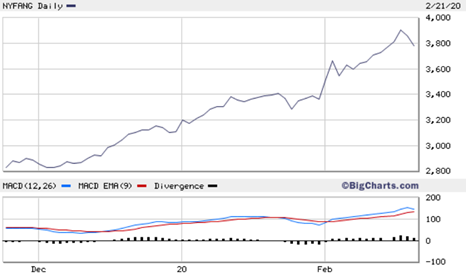 The one sector that stood out this last week, perhaps unsurprisingly, was gold and silver mining stocks, as characterised by the US-listed GDX Gold Miners ETF ( £SPGP in the UK) and the GDXJ Junior Gold Miners ETF ( £GJGB in the UK).
Both saw strong rallies towards the end of last…

Unlock the rest of this article with a 14 day trial
Already have an account?
Login here