My Market Themes: Sat 25/01/20
1. Risk management: Possible market correction ahead?
I had mentioned in last weekend's article that I was getting nervous about the strong momentum in global stock markets. Well this weekend, I am getting even more nervous over the short-term risk outlook.
Friday ended poorly in the US for the S&P 500 index – Admittedly, a pullback of 0.9% on the day is hardly anything to worry about for now, a mere blip on the end of a strong bull run since August 2019.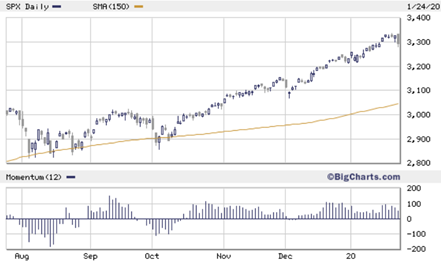 However, zooming into the last 2 months to get a better picture of the candles, we see a bearish engulfing candlestick pattern, generally signalling reversals in trend. This is combined with an RSI reading that had been in the overbought area (above 70) but now falling back.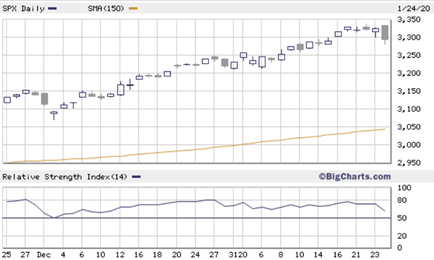 All of this tallies with the signs of investor complacency that have been multiplying of late, including the CBOE put/call ratio which had reached historic lows (close to levels where stock market corrections had previously occurred), highlighting that investors were overwhelmingly buying "bullish" upside calls and not buying "bearish" downside puts for hedging.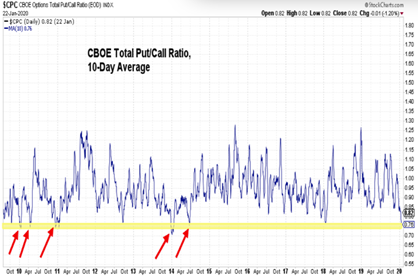 Given the recent strength in global stock markets, led by US tech stocks (see the 35% surge since October in FANG index below, which includes Google, Tesla, Facebook, Netflix, Amazon and Apple), it is perhaps not a bad thing to see a small pullback here, so as to remind investors that this is not a one-way street.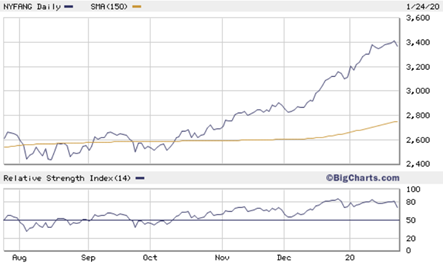 The spread of the Chinese coronavirus may be the excuse to trigger a wider stock market correction in the days ahead – keep your eyes on the Chinese and US stocks market over next week.
2. Where to hide in a stock market correction? Answer 1 = Bonds
The natural place to hide if one is worried about a stock market correction is the bond market. Normally the classic answer would be in sovereign bonds, e.g. UK gilts (as in the Vanguard UK gilt ETF VGOV in yellow in the chart below), but given the ultra-low yields on offer here, we may stretch as far as investment-grade corporate bonds.
In the corporate bond space, one useful ETF to consider is…

Unlock the rest of this article with a 14 day trial
Already have an account?
Login here