NAPS 2020 Visited: Risk Optimized Portfolio Results
Previously, I looked at Stockopedia NAPS selections for 2021. Here is the application of the strategy, outlined in previous posts, to the 2020 selections. The following table shows the 2020 NAPS selections and the risk level weightings, rounded to the nearest 5%, derived from the individual variances of 2019 stock returns: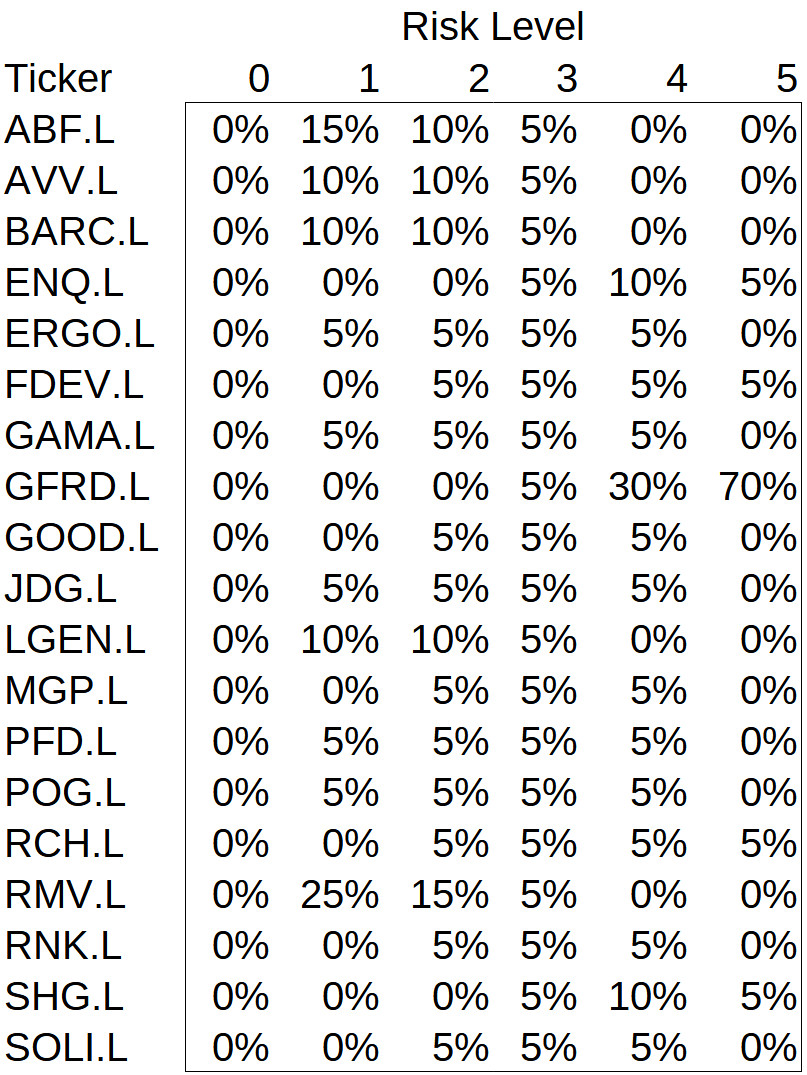 Not included is Rockrose Energy (LON:RRE), as its data wasn't available to download. One might baulk at the 70% allocation to Galliford Try Holdings (LON:GFRD) in the highest risk portfolio but it does pay-off handsomely. Note that the 2020 NAPS was published on Friday 3 January 2020. Hence, the strategy commences on Monday 6 January when the selections are known. Consequently, the portfolios miss out in the considerable rally in Galliford Try Holdings (LON:GFRD) on Friday 3 January.
Here is the result of applying the strategy to the 2020 Stockopedia NAPS: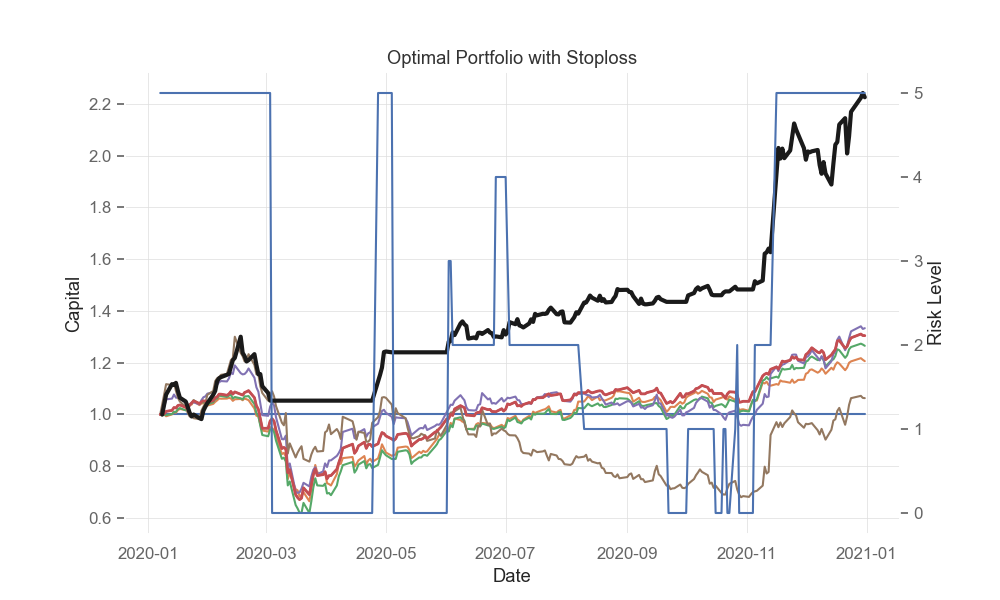 At entry on Monday 6 January 2020 at the highest risk level, all portfolios failed to benefit from a strong rally in the stock price of Galliford Try Holdings (LON:GFRD) the previous Friday. With the onset of COVID and its economic implications, the market crash began on about 27 February and the risk optimized portfolio (ROP – in black) stop-loss was triggered. It remained out of the market until 23 April albeit with a positive return. The equal weight portfolio (EWP, in red) buy and hold investor at one stage showed a loss of 30% and a drawdown of 39% during this period. There was a brief ROP reentry into the high-risk portfolio on 23 April then a return to cash soon after. On ROPs reentry on 29 May, the EWP had just broken even while the ROP showed a 24% gain. From then on the ROP ventured into medium and low risk levels until 3 November when it embarked on Risk Level 5, this time gaining substantially from a second major rally in Galliford Try Holdings (LON:GFRD) .
The table below summarizes the results for the year:

Investors who baulk at the 70% allocation to Galliford Try Holdings (LON:GFRD) in the highest risk portfolio have the choice of modifying the…

Unlock the rest of this article with a 14 day trial
Already have an account?
Login here