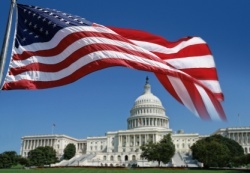 On November 23, a little known committee of US congress men and women may need to admit that it has failed completely to agree on how to reduce Washington's massive deficits. By law, the committee's failure will trigger mandatory spending cuts that may cripple the US economy, while, potentially, triggering another credit rating event yet again.
This story began last August
Congress was in a panic. It needed to pass a bill that raised Washington's debt ceiling — and fast. Failing to do so could have shut down the Federal government ... threatened the very survival of millions of American families and companies ... and, according to some start a 1930s style depression.
Republicans in Congress agreed to vote for an increase in the debt limit, but demanded that substantial reductions be made in America's massive trillion-dollar-plus federal deficits as part of any agreement. Almost immediately, Congress became hopelessly deadlocked on how to cut the deficit:
Democrats refused to approve substantial cuts in entitlement spending and demanded tax increases on Americans earning $250,000 or more per year.
Republicans rejected tax increases, saying they'd kill job creation and investment and demanded far larger cuts in entitlement programs.
In the end, Congress postponed the inevitable, instead they passed a bill that raised the debt limit immediately and put off the decision on how to cut deficits by creating "The Joint Select Committee on Deficit Reduction" — widely known as the Super Committee. The six Democrats and six Republicans on the committee were ordered to do what Congress itself has failed to do for decades to come up with a credible plan that reduces the US' deficits by at least $1.2 trillion — and do so no later than Wednesday, November 23, 2011. But after nearly two months of wrangling, the Super Committee hasn't even been able to agree on the most basic parts of the plan — like whether to go for $1.2 trillion in savings or to "go big" cutting $4 trillion or more. Whether the Super Committee succeeds or fails on November 23, there is another hurdle to take just a month later when 'any' deficit reduction plan will be put to the vote in a highly fragmented Congress.
US' day of reckoning
If no agreement has been reached by the end of November 23rd automatic, across-the-board budget cuts will need to be implemented. By law, the Defense budget…

Unlock this article instantly by logging into your account
Don't have an account? Register for free and we'll get out your way
---
---