Numis Results Thread
Numis (LON:NUM) Final results out this morning showing record revenues for the 3rd year in a row but reading on not sure what to make of the overall picture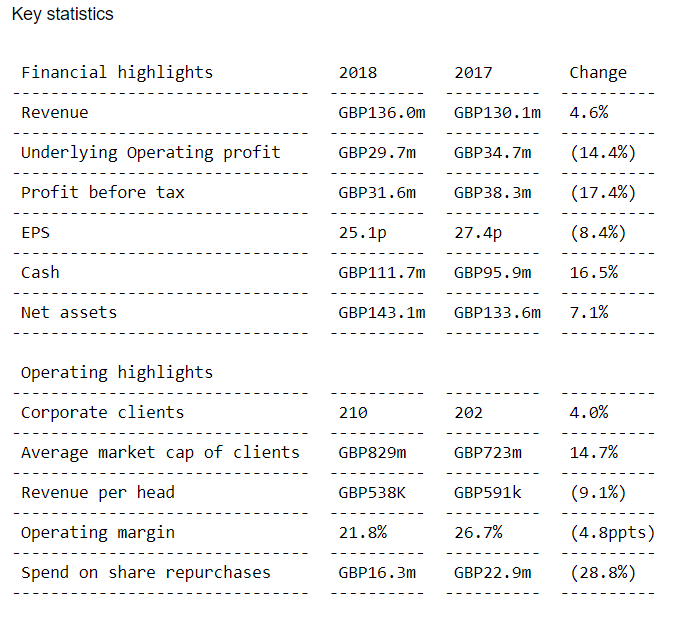 Stockopedia has listed their EPS estimate at 19.8 so I suppose the 25.1 achieved is better than expected.
Dividend is maintained at 12p for the full year
CEO says:
"This has been a year of investment in people which, whilst impacting profitability, has strengthened our competitive position, expanded the range of services available to our clients and enhanced the overall quality of the Numis platform."
They had already said this in their previous results so the market priced in the reduced profit that they mentioned - and since the market didn't know hat that stage how much profit would be reduced by, the share price took quite a hit!
They have also closed their Asset management business which was basically a Numis selected Fund of companies and returned the money to the fund's investors.
Brexit and the current market turmoil leaves some of their Deals and IPOs etc a bit "unpredictable" so a resolution to Brexit or trade wars and some resulting stability would help here for sure...
My Opinion: 
I think the re rating for the dip in EPS has been fully priced in and these should now hold their current price.  I am not sure that I would by for the first time at this stage to see how their investments pan out but don't think I will sell for now either!
Disclosure: I am long Numis currently


Unlock the rest of this Article in 15 seconds
Already have an account?
Login here