One to Watch: Leyshon Resources Gearing Up For Well Completion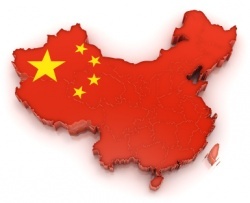 Leyshon Resources (LON:LRL) the dual listed (ASX:LRL/AIM:LRL) China focused resource company, has recently announced that the first well of a three well drilling campaign is due to reach its total depth by the end of November.  Operating through its recent acquisition Pacific Asia Petroleum Limited, which Leyshon acquired in August for US$ 2.5 million in cash and the issue of 10 million fully paid ordinary shares, the company is focused on the 708 km2 Zijinshan block located on the Eastern flank of the prolific Ordos Basin, which is China's second largest and regarded by Leyshon as one of the world's major gas producing basins. [1]
Leyshon Resources who operate from their Beijing base, was set up by its Managing Director Paul Atherley in 2003 as a direct result of China opening its mining sector to foreign investment, and is hoping to capitalise on the urbanisation of a large number of Central China's rural population into second and third tier cities.  The hope for Leyshon is that this urbanisation move will increase the capital infrastructure spending and in tandem the energy demands will also be a by-product of this demographic change which could see the urbanisation rate lifted to 51.5% of the overall population under China's latest Five Year Plan. [2]
The new operations management team led by COO Frank Fu, has 20 years' experience with ConocoPhillips in China, and successfully drilled and appraised the nearby multi-Tcf Sanjiaobei and Linxing discoveries.  Pacific Asia Petroleum Limited has 100% interest in the project during the exploration phase of the  Production Sharing Contract with PetroChina holding a right to buy back a 40% interest at the should the project reach the development stage.
Leyshon Resources have other pursuing interests including a thermal coal project located in the Western Chinese province of Xinjiang, however due to the recent 30% fall in domestic thermal coal prices, the near term economics and potential financing has been impacted, Leyshon management are still believed to be monitoring developments at this project to assess whether there would be an attractive entry point for the Company.  Also of interest to Leyshon Resource shareholders is the Mt Leyshon project, however, although the ball mill scats drilling and preliminary test work programme has indicated that the project is viable, it requires significant capital investment and is not viewed as…

Unlock this article instantly by logging into your account
Don't have an account? Register for free and we'll get out your way
Disclaimer:
This content has been created for information purposes only, and is NOT, in any way, a recommendation to invest.  This communication is a snapshot of a certain aspect of a discussed business at a moment in time, and is merely a basic starting point for research.  The article/thread has been created with honesty and integrity in mind and is based on publically available information sourced in relation to the title, such as from, RNS announcements, published reports, management comments, analyst reports, media coverage etc.  To this extent the author who has written the piece in good faith accepts no liability for the accuracy of the information and urges all readers to verify the content independently.  Please note that the value of investments may fall or rise and you may not get back the amount originally invested, or in some cases your investment may be wiped off altogether.  When investing, bear in mind that past performance is not a guide to future performance and that qualified independent financial advice should be sought before buying or selling shares.  The Author of this article may hold shares in the companies discussed.
---
---

Leyshon Resources Limited is an exploration company. The Company operates through exploration for minerals segment. The Company's principal activity includes the identification and evaluation of suitable investment opportunities and undertaking a strategic review of its Mt Leyshon gold project in Queensland, Australia. The Mt Leyshon Gold Project is located approximately 28 kilometers south of Charters Towers in Queensland. The Company is pursuing and studying potential investment opportunities in the resources sector. more »

Price