One to Watch: Novacyt
Novacyt (LON:NCYT)
Share price: 305p
No. shares: 70.6m
Market cap: £215m
Novacyt Sa (LON:NCYT) is a is an Anglo-French biotechnology group focused on clinical diagnostics. They first came to prominence due to the speed in which they had their Coivd-19 test ready and at a stage where not even the UK Government and many others across the Globe were taking this disease seriously and before a pandemic was announced. Their Covid-19 PCR test was one of the first to be developed and registered under the CE-IVD Directive, establishing Novacyt as a pioneer and a leader in Covid-19 diagnostics.
Their Covid-19 testing kit is regarded as the gold standard when it comes to test quality and reliability, to date, the target has been analysed against 42,655 individual Covid-19 viral sequences and demonstrated 100% detection. Being able to get a product to market, scale up to the millions and be one of the first globally to be approved by the World Health Organisation showed the quality of the team at Novacyt. Endorsements soon followed globally and importantly for us here in the UK, by Public Heath England. Further encouraging developments soon followed with orders from across the world and a big role to play within the UK Government's strategy as a part of their five pillar plan to increase testing for Covid-19 in the UK, where Novacyt is collaborating with AstraZeneca, GSK and the University of Cambridge to support the national effort.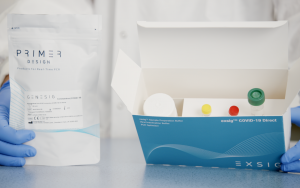 Novacyt reported that revenue for the first half of 2020 had increased by over 900% to £63.3m, compared to revenue of £6.3 million for the first half of 2019, with 91% of the revenue accounted for in the second quarter. The company have informed the market that it is continuing to see strong demand for its Covid-19 test and their sales figure for June stood at £22.5m, which was the sixth consecutive month of growth with certain contracts for the supply of the test have also been extended into the second half of the year and in some cases into 2021.
The company noted the outlook going into the second half of the year:
"Given the visibility of orders, extended contracts and the launch of new COVID-19 related products, the Company anticipates revenue for the second half of the year to be greater than the…

Unlock the rest of this article with a 14 day trial
Already have an account?
Login here