One to Watch: Serabi Gold
Serabi Gold (LON: SRB)
Share Price: 84.5p
No of Shares: 59m
Market Cap: £50m

Serabi Gold (LON:SRB) is a Brazil focused gold mining company, which has recently updated the market with its Q2 results. Gold production stood at 8,504 ounces for the quarter, resulting in 17,525 ounces for the year to date. A key factor for the quarter is also the fact that they became debt free for the first time by repaying in full a loan from Sprott Resource Lending Partnership, of which $7.0 million was outstanding at the start of 2020. The cash balance at end of June 2020 amounted to $9.6 million.
The company has a large area under its consideration and there is a real exciting prospect of a significant resource upgrade to come as we progress, and a future production increase target is a real possibility. Last year they produced over 40,000oz. This year with Covid, the expectations are once again to have a good go at that figure, going by H1, and ramping up in H2, they will probably be there or thereabout.

Serabi Gold rates as a 'Super Stock' on the Stockopedia system, with an overall StockRank of 99, and impressively hits green on 8 out of 9 on the Piotroski F-Score which aims to identify the healthiest companies amongst a basket of value stocks through applying a set of nine accounting-based stock selection criteria.
With the huge economic uncertainty and expectations of more fiscal stimulus being needed both in the US and Europe, the strength of the gold price is set to continue for the remainder of 2020 and 2021 at least in my opinion. Gold producers are a must for the portfolio and for me, I see considerable potential upside from the current £50m Market Cap, not only in the current production but also the exploration and potential resource and future production upside possibilities. With only 59m shares in issue, debt free and with the strength of gold and cash generation, Serabi Gold is one I am happy to have in the ISA portfolio.


Quarter 2, operational highlights: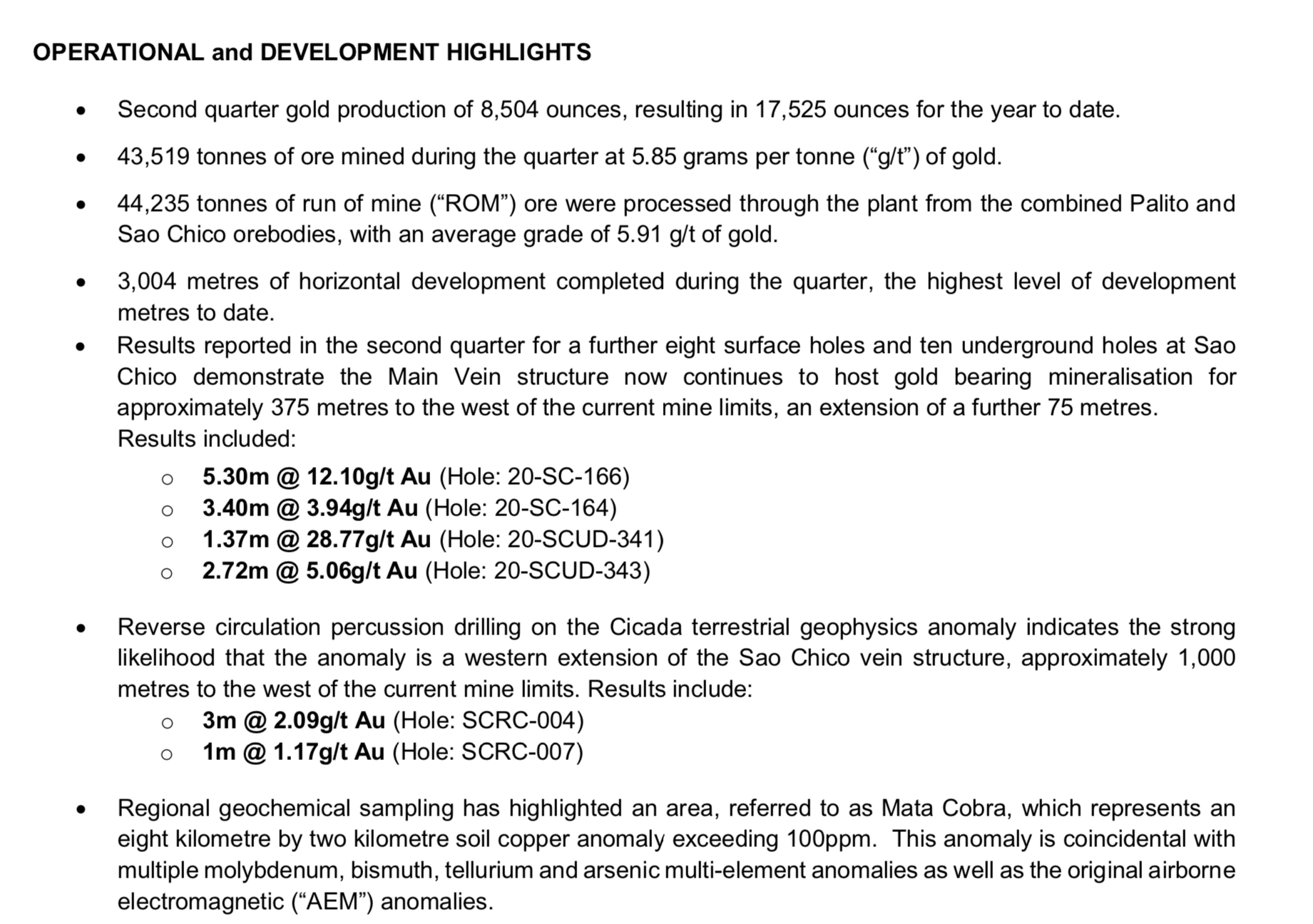 Following the Q2 update, Michael Hodgson, CEO Serabi Gold took part in a detailed interview with Crux Investor, which is worth a view, link below:



Unlock the rest of this article with a 14 day trial
Already have an account?
Login here