hy just looking at revenue and profits growth is misleading
There is a great deal of time spent on this website comparing the relative merits of two internet retailers Boohoo.com and ASOS.com. But I thought I would be good to widen the debate to include AO World and Ocado and then throw Next (.com) into the mix as well.

Part of the reason internet only retailers have gained so much attention is that there is a paucity of them on the stockmarket: boohoo, ASOS, Ocado. AO.com Combine this scarcity value with high revenue growth rates in an environment where retail sales have generally been lacklustre and bingo - a new paradigm is born.

Capital Light
Perceived wisdom also dictates that these businesses 'should' have higher operating margins as they have low overheads such as no shops or shop staff and because the Internet is still growing, customer acquisition costs are low. Hence any revenue growth should also see huge operational leverage as a high proportion of each marginal £ of sales, after the cost of goods sold (COGS) is deducted, falls to the bottom line. Being internet businesses also they are thought to be "capital light", ie to grow sales all you really need is a clever marketing campaign, the more digital the better, and you can just service these sales for little investment ie they don't have to deploy much capital.

Only the theory hasn't worked out that well.


Struggling to achieve operational gearing
Ocado struggles to exhibit any meaningfully positive operational gearing. Sales have risen from £400m in 2009 to over £900m in 2014 yet EBIT has risen from -£14m to the giddy heights of £17m. The marginal drop through of each pound has been a whopping 6.2%...ASOS has grown sales from £340m in 2010 to £1150m in FY15. EBIT has grown from £16m to £47m. Again a staggering marginal drop through of 3.8%. Would it make you feel better if I told you that the Gross margin at ASOS is 50% and 33% at Ocado. So the drop through after cost of good sold really has been poor. AO World (AO.com's parent) isn't much different although the public trading history is shorter. Great sales growth from £164 in 2011 to £476m in FY15. However EBIT has gone from £4m to MINUS £2m over this period. Proper negative operational gearing.  Top of the pops in this chart line up is BooHoo where sales have grown from £24m in 2011 and To £140m and EBIT has progressed from £200k to £12, a 10.4% drop through. So it gets a gold medal.

However...not so fast !

Compare the progress of Next. This old school physical, bricks and mortar retailer has very successfully migrated to an omni-channel offering. Next Directory, which is the Group's online business, has increased sales from £873m in 2010 to £1540m in FY15 , while overall Group sales have risen from £3215m in FY10 to £ Directory EBIT £184m has doubled to £377m, implying a drop through of 29%. Now that is proper operational gearing! Overall group EBIT has also progressed, so to prove online profits haven't cannibalised shop profits, from £530m to £812m over the period.

Winners vs Losers
So for the wunderkids Boohoo, AO, Ocado and ASOS we can see operational gearing has been in the region of 5-10%, whereas we have c30% at Next. Also consider this: for each £1 of sales Next Group (online and shops) collects 20p in pre interest and tax profits. Ocado, Boohoo, ASOS all collect roughly 5p. So they have to grow 4x faster just to make the same level of profits. As Bertie Hiscox, Founder of Hiscox plc, once wrote in a shareholder letter "revenue is vanity, profits sanity". I couldn't agree more.

I am sure I will be prodding a hornets nest with these comments but I feel we should examine the issue. Yes, Internet-only retailers are growing fast, but their profits aren't displaying the exponential improvement that analysts and management teams originally sold the investors.

Capital Intensity
I won't go into capital intensity, but I can assure you the picture is the same. The .com players have had to invest far more into the fulfillment than any investor originally assumed. Take BooHoo, they have done a brilliant job building a second warehouse. The space will be c800k Sq ft and allow gross sales (ie before returns) of c£560m. Cost of the second warehouse is roughly £12m, but if it were to be fully automated (pouch picking technology etc) that will add a further £25m. Total £37m. That will use up all the cash on the balance sheet. Will margins come close to those of Next after this transformation. No. About 12-14% EBIT margins is where I estimate they will end up, roughly 50% lower than those of Next. So better than AO, Ocado etc but no cigar.

Management
Management is pretty crucial in any business, but retail I find it even more so given the fast moving pace of the industry. Therefore I put a real premium on investing with strong, proven management teams. In this regard, I like the BooHoo management team. Mahmud is v entrepreneurial while Carole Kane is calmer, keeping him on track. I haven't met the ASOS team nor AO World. Ocado are very confident individuals but the jury for me is out until they prove they can sell licences to other supermarkets abroad to utilise Ocado's technology. Top rank for me though is Lord Wolfson at Next, who is phenomenal and in a different class. He is very clear on the Group's strategy and understands capital allocation much better than nearly all his retail peers.

Valuation
Most of what I have written is backward looking. Many will point out the potential inflection in revenues / profits in all of the online companies mentioned eg AO will see profits inflect once the investment in GErmany pays off. Similarly the licence opportunity for Ocado internationally. ASOS has been investing in its back-end, as has BooHoo. So yes profits probably should inflect from here from all of the above. But I feel valuation which is the market's assessment of future growth already takes that into account. I have used PE to keep things simple, but you could also use EV/EBITDA

Use the Stock Comparison tool
One simple way is to use the comparison tool which makes life a great deal easier

Forward PE
BooHoo 26x, Ocado 115x, AO 170x, ASOS 55x, Next 17x Next wins
PEG (PE divided by the earnings growth)
Winner here is BooHoo on 1.2x, AO is an NA, Ocado 3.6x (most expensive), ASOS 2.4x, Next 2.9x (PE is 17x but EPS growth c7%)
Dividend Yield
Next is the only company to pay a dvidend.
Next wins.
StockRanks (the holy grail of investing!)
BooHoo 40, AO World 47, Ocado 36, ASOS 59, Next 87 Next is the clear winner
Conclusion
For me the jury is still out as to the business case for investing in the online only retailers: BooHoo, ASOS, Ocado and AO world. The growth is there but they are lower margin and have to invest more than was originally assumed in order to grow. Hence the positive operational gearing has not yet occurred. Valuations, BooHoo apart, are also all very high in absolute terms at over 50x forward PE. In contrast, Next is more lowly valued on 17x pe, has a huge 65% ROCE and much better margins and hence Cashflow. Admittedly it is slower growth at around 7% EPS but each £ of revenue growth generates 4x the contribution of the internet retailers. Next has also demonstrated positive operational gearing in the last 5 years, unlike the others.  So for me Next is the clear winner. BooHoo would be my second choice and the others would have to be in the serious bargain bin before I will be investing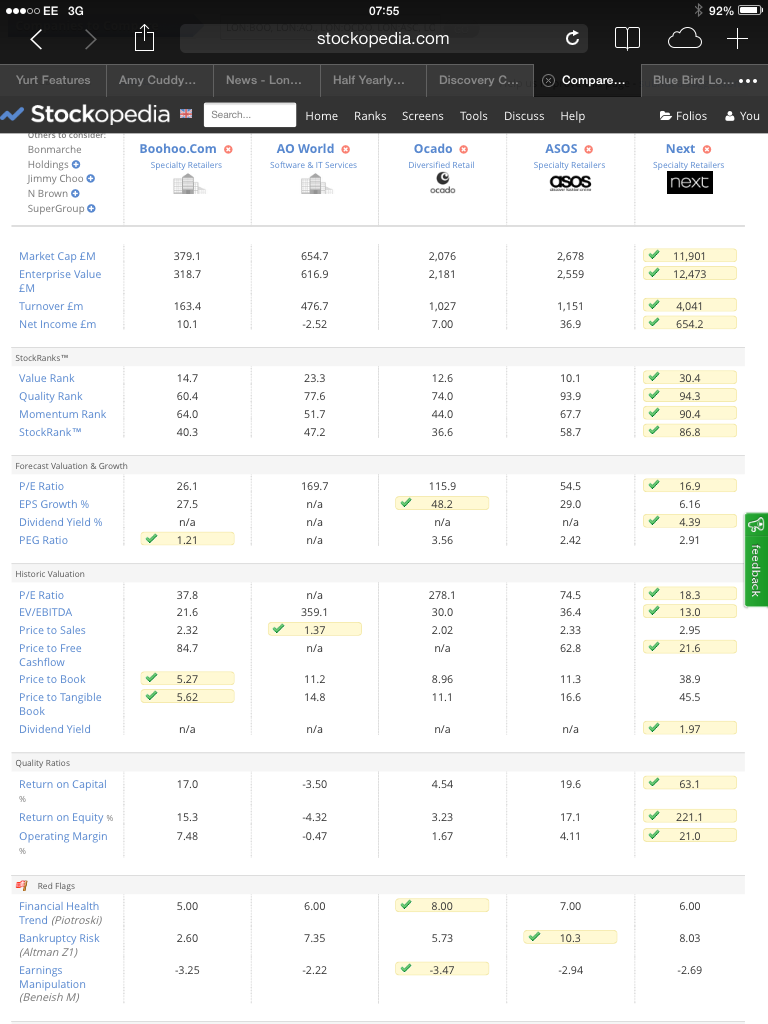 Disclaimer:
As per our Terms of Use, Stockopedia is a financial news & data site, discussion forum and content aggregator. Our site should be used for educational & informational purposes only. We do not provide investment advice, recommendations or views as to whether an investment or strategy is suited to the investment needs of a specific individual. You should make your own decisions and seek independent professional advice before doing so. The author may own shares in any companies discussed, all opinions are his/her own & are general/impersonal. Remember: Shares can go down as well as up. Past performance is not a guide to future performance & investors may not get back the amount invested.
---
---

Boohoo Group PLC, formerly boohoo.com plc, is an online fashion retail group. The Company is based in the United Kingdom and has a strong presence in the United Kingdom, the United States, Europe and Australia, selling products to almost every country in the world. The Company owns the boohoo, boohooMAN, PrettyLittleThing and Nasty Gal brands. These brands design, source, market and sell clothing, shoes, accessories and beauty products targeted at 16-30 year old consumers in the United Kingdom and internationally. more »

LSE Price

Asos PLC is a global fashion destination for a range of things. The Company sells and offers a range of fashion-related content on ASOS.com. The Company's segments include UK, US, EU and RoW. It sells over 85,000 branded and own-label products through localized mobile and Web experiences, delivering from its fulfilment centers in the United Kingdom, the United States, Europe and across the world. It offers approximately 75,000 separate clothing ranges, spanning women's wear and menswear, footwear and accessories, alongside its jewelry and beauty collections. The Company's collection of specialist own-label lines includes ASOS Curve, ASOS Maternity, ASOS Tall and ASOS Petite. The Company caters a range of customer segments and sizes, across all categories and price points. It also operates returns centers in Australia and Poland. It operates country-specific Websites in Australia, France, Germany, Italy, Spain, Russia and the Unites States. more »

LSE Price

Ocado Group plc is a United Kingdom-based online grocery retailer. The Company's principal activities are grocery retailing and the development and monetization of Intellectual Property (IP) and technology used for the online retailing, logistics and distribution of grocery and consumer goods, derived from the United Kingdom. The Company offers end-to-end operating solution for online grocery retail based on technology and IP, suitable for operating its own retail business and those of its commercial partners. The Company's brands include Ocado, Ocado Smart Platform, Sizzle, Fetch and Fabled. Sizzle is a kitchen and dining store. Its beauty store is in partnership with Marie Claire. The Company's Ocado Smart Platform is a solution for operating online retail businesses. The Company's Ocado Smart Platform combines its end-to-end software and technology systems with its physical fulfilment asset solution. more »

LSE Price