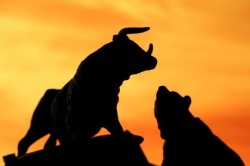 Pace Micro Technology (LON:PIC) has seen a spectacular fall from grace from its share price highs due to a combination of not meeting financial result expectations with the City and not being transparent enough about the problems causing these short falls. Pace has dropped from the circa 200p region since the start of the year to a 52 week low of 87p and currently trading at 107p. 
A key action that would seem imperative for Pace to restore integrity and credibility with shareholders would be by firstly replacing the existing Chairman, i.e. the company's face that is a communication conduit with the shareholders of the firm (and secondly to consider changing key managers on the board). 
Pace has now addressed the first by appointing the much respected Allan Leighton as the new Chairman for the company.
PRICE DISCOUNT

The current price of 107p is valuing Pace at a relative Mark-to-Market valuation, circa 50% discount to peers, making it a real target for takeover. The current valuation implies that Pace is in a distress situation, questioning it operating as a going concern. The reality of the matter is that Pace still has a leading International presence in the set-top box market. The current financial liquidity position is relatively healthy with £85m in cash levels, sufficient finance cost servicing cover – circa 10x cover, etc.

In a worst case scenario, if the pay-TV industry moved entirely to internet broadcasting, Pace's market would still be worth 75p per share. A more realistic scenario, where conventional set-top boxes are retained for live premium events, could justify a share price of 200p+.

TAKE OVER TARGET

Pace is positioned in an industry that is long overdue a sector consolidation to improve economies of scale and improve bargaining power with the cable companies looking to fend off the threat of internet TV. With Pace's disappointing results due to profit warnings it is a vulnerable target from a take-over predator. Pace is a commercially viable take-over target from: an industry giant, i.e. Korean giant: Samsung, or a private equity firm.

It is worth noting that Pace's foothold in the US Market could be an attractive proposition for a Korean player for an otherwise hard to enter lucrative market.

Private equity could also be interested at these levels but probably would need…

Unlock this article instantly by logging into your account
Don't have an account? Register for free and we'll get out your way
Disclaimer:
AJ Sangha is an active investor and may have financial interests and holdings in any of the topics about which he writes. The views expressed are solely those of Mr Sangha. This material is not intended to provide, and should not be relied upon for, investment advice or recommendations. Readers are urged to seek professional advice before making any investments.
---
---