Parseq takeover update; random thought for the day - EU debt volcano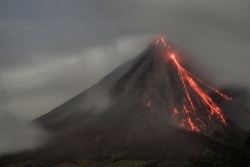 Further to last week's response from the EU to the debt crisis, I asked my 22 year old son for his reaction. He likened it to seeing a parachutist heading towards the mouth of a volcano and a spectator to the incident trying to place the equivalent of a bed sheet over the hole of the volcano in order to break the fall! The thinking members of his generation seem to be increasingly realising that they are going to have to pick up the tab for the profligacy of previous generations.
Continuing on this theme, I strongly recommend reading at least the first two paragraphs of John Mauldin's recent newsletter by clicking here. This describes very succinctly the huge opportunity cost in terms of foregone wealth creation caused by big government.
Turning to Parseq (LON:PSQ) , I congratulate the movers and shakers who caused the previously mooted offer price of up to 7.5p to be raised to 9p. Whilst the transaction is now almost certainly unstoppable, it is a sad reflection on institutional investors that they accepted a price which whilst reasonable based on current trading does not reflect the value of the business to a strategic buyer. A good example of the gains to be achieved by selling to a strategic buyer is the recent sale of Autonomy to Hewlett Packard. It is interesting to note from Autonomy's 2010 accounts that the six largest institutional investor shareholders (totalling 27.9%) were all US centred organisations!
This begs the question of why UK institutional investors behave in a way whereby the benefit of so much wealth creation led by a UK team is allowed to accrue to overseas investors rather than to UK individuals represented by UK institutional investors? I am convinced that the solution for the UK lies in mustering private investors rather than seeking to change the entrenched culture of UK institutional investors. The internet now makes this solution practical.
Re private investors, Stockopedia is about to launch its fundamental analysis and screening site. If you want to be a beta tester of the site, click here.

Unlock this article instantly by logging into your account
Don't have an account? Register for free and we'll get out your way
Disclaimer:
This note was prepared by LCF Research Limited using information provided by the subject company's management or publically available news sources. No representations are made nor warranties given (express or implied) in relation to accuracy and completeness. This document is not an invitation to invest in the subject company and does not purport to contain all the necessary information that a prospective investor might require. LCF Research Limited recommends prospective investors to conduct their own thorough independent analysis of the subject company and the information contained in this note or referred to above.
---
---