Photo-Me International: In a supermarket near you
There are some brands that are ubiquitous; cleaning companies perhaps or white-label bakeries. They're everywhere and yet no one notices them. Photo-Me International is just such a company with its 27,600 photo-booths sited worldwide together with those children's rides you see in shopping malls and a number of fully automated laundromats.
All in all the company operates more than 47,300 vending locations in 18 countries (primarily the UK, France and Japan) and is the world's leading operator of photo-booths; although that's something of a poisoned chalice given the meteoric ascent of digital photography since the turn of the century. This, I think, is just one of the reasons why the shares have lagged since 2000 despite having been fully listed since 1962 and presumably profitable over most of this half-century.
That said this article from 2000 suggests that the company managed to create its own problems too with accounting irregularities leading to a shock profit warning at the time. Then, in 2007, another profit warning arrived courtesy of a deal going sour and the board being in disarray; issues which led to a hefty fine from the FSA. Looking back it seems that this was just the latest in a sequence of problems for the company.
So with all of that in mind what's the attraction here? I must admit that I'm starting to wonder with the latest misstep being reported in June 2016 with the Japanese roll-out of identity cards failing to be as smooth as expected. Nevertheless this is a business that dominates its niche, generates excellent cash-flow and directs this to develop new markets (as well as pay shareholders a decent dividend). The current management appear to be making sensible decisions and the CEO, Serge Crasnianski, has a lot to lose by virtue of owning over 20% of the company.
How do the numbers look?
The key question that I want to answer is whether Photo-Me is a value trap. Qualitatively I know that it's operating in a challenging, if not actively shrinking, market and that new sources of revenue are needed; however I wonder if a quantitative analysis backs up this assessment? Much like Empresaria, another recent holding of mine, turnover has gone nowhere for years and is only now rebounding from a recent decline: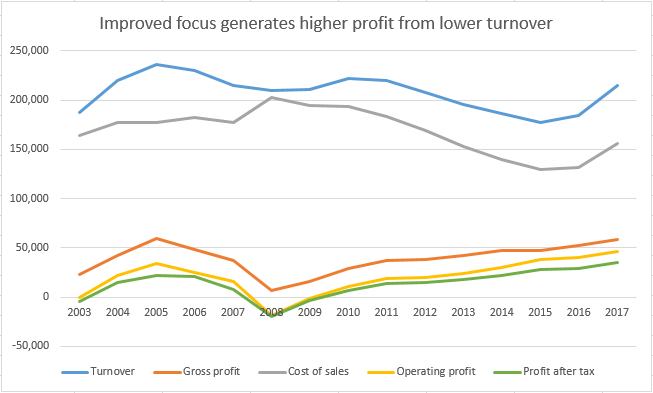 Finish reading with a 14 day trial
Already have an account?
Login here