Pinterest Q3 numbers on Wednesday.
I am investigating 'stay at home plays' that have yet to report on calendar Q3 recoveries from the Q2 when we were all glum and in lockdown.
While I am not a big user myself, Pinterest caught my eye as a potential play on this theme and it has, by the look of the financials, a relatively fixed cost base that would benefit from any uplift in activity.
A broker published a graph on the US and international Pinterest downloads growth last week. What struck me was the pick up in growth - particularly outside of the US.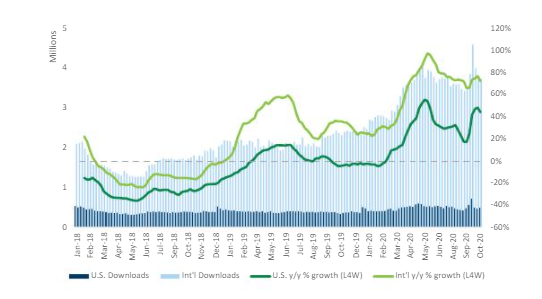 It does not look like a big ask for Q3 revenues to drive an upside move in consensus estimates for the full year on revenues which could get one thinking about potential pretax profitability in 2022, earlier than the market might have anticipated. From what I can see in terms of existing estimates, the current year should also mark a move into positive free cash flow generation.
Q3 numbers are due on Wednesday the 28th October after the US market closes. There is a conference call at 9.30pm London time.

Unlock the rest of this article with a 14 day trial
Already have an account?
Login here