Pittards: From Value Trap to Contrarian Stock
Warren Buffett once suggested that investors should 'be fearful when others are greedy and greedy when others are fearful'. In practical terms, this could mean that investors should take a contrarian stance and buy scary stocks that no-one wants, while selling popular stocks that everyone loves. This is indeed the essence of contrarian investing.
Based on Stockopedia's StockRank framework for classifying shares, the StockRank style of leather specialist Pittards' has very recently changed to Contrarian. Stocks with this StockRank style are typically cheap, with strong fundamentals - for instance, a strong balance sheet and wide or improving profit margins. Contrarian plays also need investors to be sanguine about market sentiment, as these companies often have weak share price momentum.
In this piece we take a closer look at Pittards' financial performance over recent years to discover why it has become a Contrarian stock, and explore what this means for its future prospects.
What does Pittards do?
Before looking at Pittards' fundamentals, we should pause for a moment to understand exactly what the company does. Pittards is classified as a micro cap with a £12.4m market cap and just 1,648 employees. It designs and produces leather which is in turn used by other manufacturers to make a finished product - shoes, gloves and so on. For example, Slazenger incorporates Pittards' leather into its cricket batting gloves. The shoe manufacturer New Balance also uses Pittards' leather. The firm operates mainly in the UK, where it sources most of its hides, and in Ethiopia, where it sources the majority of its hairsheep skins.
Why Was Pittards a Value Trap?
We can see the evolution of Pittards' StockRank style by looking at historical StockReports (see here). Pittards' StockRank Style is now Contrarian, but back in May 2017, it was a Value Trap - and it was still a Value Trap in March 2018.

There is an important difference between Value Traps and Contrarian stocks.  Contrarian stocks are typically cheap, but they could have strong and/or improving fundamentals, while remaining undervalued by the market. On the other hand, Value Traps may be cheap for a reason - perhaps they are in a weak financial position and are unlikely to recover.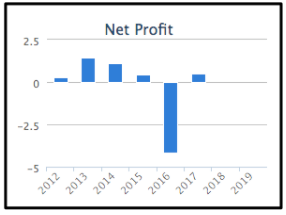 Pittards is cheap, with a P/B ratio of 0.6 - well below the…

Unlock this Article with a 14 day free trial
Already have an account?
Login here