Pittards (PTD): A question of spread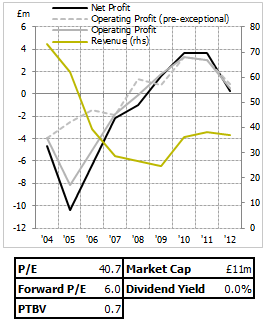 I've looked at Pittards (LON:PTD) a few times in the past, but the main thing that's always put me off has been the fact that a lot seems to have changed at the company over the last couple of years. As much as I try to inform myself from financial statements and wider research, more often than I'd like there's things that I find unquantifiable - and the effect of the regulatory changes Pittards have been through is one of them. What's changed over the last week, then, is that we've had a set of figures post restructuring, with the new make up for the business, and they look good. The market likes them, too - shares were up 20-40% on the news. They weren't rated highly before, though, and they're still not - so they're still very much on my radar, and now with a more curious eye.
You can find my first look at the company here, with more on their background, but for a very brief introduction, they're a producer of leather. It's an old company - almost 200 years, in fact, but one that's changed rather a lot recently. Regulatory changes and market forces have shifted more of the processing to Ethiopia, where the company historically procured much of its raw materials, and the company looks like it's attempting to diversify into a more top-to-bottom structure with a bigger drive in recent years to the retail market through Daines & Hathaway, a high end leather goods brand.
What's new
Put most simply, the restructured business has been very profitable relative to its market cap in the first half of 2013. That's something that's always going to get me excited - the opportunity to buy a lot of earnings power for a relatively small price. The real question, though, is how sustainable these earnings are - because this is a company which hasn't exactly always been rolling in the money. Pittards says the improving picture partly comes about from product mix - a result of the restructuring the business has been through over the last couple of years - but also puts some of the benefit down to more volatile factors, such as an improvement in raw material costs.
There are some clouds to the picture. Firstly, a cause for concern, working capital…

Unlock the rest of this Article in 15 seconds
Already have an account?
Login here