PJSC RusHydro - Russian Power Play

Market Cap £4.06 billion         Normal Market Size 20,000
Share Price $1.265 (LON)
Bid/Offer $1.26/$1.27
About the Company
RusHydro Group is one of Russia's largest generating companies with over 70 generating facilities in Russia and abroad. The company also manages a number of R&D, engineering, and electricity retail companies. Total electricity generation capacity of the Group is 39 GW which supplies 16% of Russia's energy needs.
A key point to note that the Russian Federation owns 60.6% in RusHydro as set out by decree. The rest is held by other institutional and over 360,000  individual shareholders.
The shares are dual listed in Moscow and  London. In London it is a GDR (Global Depository Receipt) share.
Share Price Chart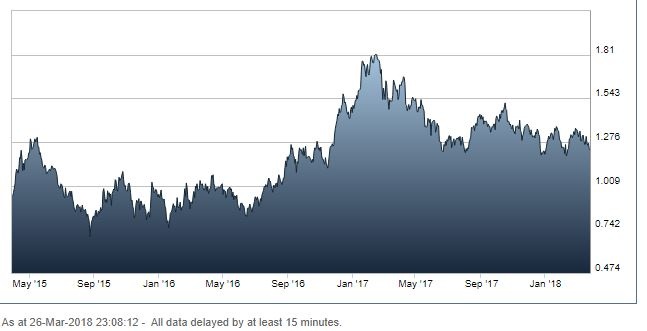 Several ways to read this chart but starting from January2017 to April 2018 suggests that business conditions have deteriorated over that time period.
Earnings Forecast
Exchange Rate 1 Rouble = US$0.0175   The rouble is subdivided into one rouble = 100 kopeks. 

We will be waiting another 12 months for the 31/12/18 forecasted results at this stage.  Already noticeable is downward revised net profit forecasts over the last three months. The eps forecasted growth rate from 2018 to 2019 is a only paltry 7.6%.  
For the year ending 2017, the Net Profit was RUB 24 bn and earnings per share of almost RUB 9 This is a substantial big drop from 2016, with a Net Profit of RUB 40 bn and earnings per share of RUB 17.6  
A recovery back to more normalise earnings is expected in 2018 and 2019.
Dividends
The dividend is increased by 20%. This on the back of 7 consecutive years of increasing dividend payments since 2010. The dividend payout ratio is 50% of net profit in 2016-2017. The dividend is 4.66 kopecks per share noting that 100 kopecks = 1 rouble.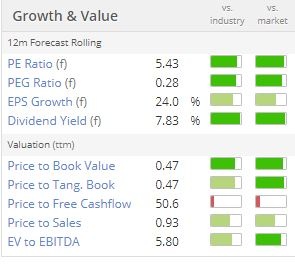 Net Debt
Total financial debt of RusHydro Group as of November 30, 2017, amounted to RUB 213.5 bn.  95% of the debt is denominated in roubles and virtually all with a fixed interest rate. No currency…

Finish reading with a 14 day trial
Already have an account?
Login here