Portfolio Performance: Two years strong
July the 4th marked the two year point for the portfolio, landing (a little sadly) while I was away. This meant the portfolio update - and the birthday celebrations, with a dollar-shaped cake and novelty £50 pound note serviettes - were delayed for a while, notably until after I'd actually caught up with what was going on and rambled on about Communisis for a little bit. We're here now, though, and after the extremely tedious task of updating all the spreadsheets which keep my backend calculations in working order, I've put together the usual charts and figures Satisfying reading they make for, too! Through a combination of blind/beginner's/sheer luck and some modicum of improving stock picking analysis, its done rather well for itself over the last couple of years: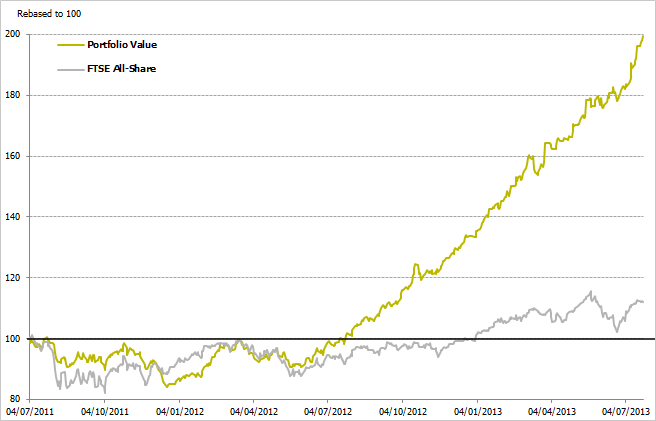 Though, I must say, the graph is flattered by two factors. Firstly; the benchmark I use, the FTSE All-Share, is quoted as an index. This means it's just the value of all the shares inside it. If you were to actually buy an All-Share tracker, you'd receive or reinvest dividends. Over the two years shown, that probably accounts for about 7% more growth than the graph above shows - so you can safely bump that line up a little. Secondly, and more intangibly, the choice of benchmark used will always alter perception of performance. The FTSE Small Cap (ex investment trusts), another perfectly reasonable benchmark for me to go against, is up 28% (pre-dividends) in the same time span - significantly more than the 12% gain the All Share is sitting on. Which is a fairer benchmark? In favour of the All Share, I don't limit myself to small caps - I've had several FTSE 250 companies in the portfolio, and currently about a quarter is invested in companies falling into that category. The majority weighting is still in small caps, though, and since my portfolio is likely to be much more volatile over the long-term as a consequence of this, there's a strong argument for using that index instead. The choice of benchmark doesn't hugely bother me - it's just a nice comparator, and since I'm up on both, I'm not hugely fussed.
I've also compiled a list of all the equities the portfolio has ever owned, along with their performance. To save my sanity, I haven't…

Unlock the rest of this Article in 15 seconds
Already have an account?
Login here