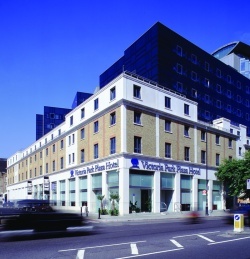 The hotel industry is cyclical with room rates and occupancy levels falling back in a downturn. New hotel supply exacerbates this trend with hotel completions picking up just as a recession takes hold. We are now in the upturn of the cycle and as such PPHE Hotel Group is reaping the rewards.
Companies with cyclical demand and financial leverage have vulnerable business models. This has proven to be the case for a number of banks, real estate developers and ship owners in the post 2008 downturn.
The hotel sector is cyclical with room demand driven by underlying economic conditions. The key metric followed by the industry is revenue per available room (RevPar) which is driven by occupancy and room rates.  
Taking the US hotel industry as case study and RevPar fell back in 2008 and 2009. This was exacerbated by strong annual new hotel supply being delivered in both of those years due to strong hotel construction started before the downturn.
US Hotel industry case study: Demand / Supply and RevPar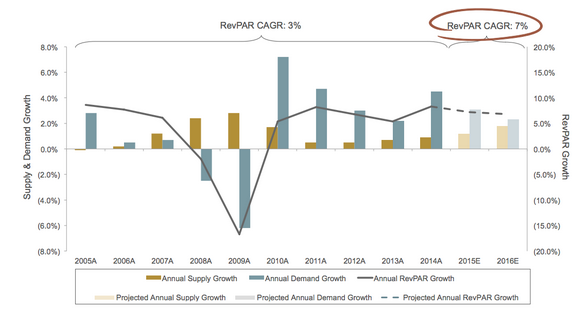 Source: Hilton Worldwide investor presentation

PPHE Hotel Group has seen similar trends with hotel occupancy falling from 82.4% in 2007 to 79.1% in 2009. Room rates fell from €118.8m in 2007 to €97.8 in 2009 and as such RevPar was down from €97 in 2007 to €77.4 in 2009.
The effect on revenue was that it fell back from €97m in 2007 to €80.3m in 2009 while EBITDA profits fell from €28.4m in 2007 to €16.2m in 2009. Net debt, meanwhile, rose from €86.5m at the end of 2007 to €403.9m at the end of 2009.
Against this backdrop it is understandable that the shares fell back from over 500p in 2007 to less than 50p in 2008. Operating conditions, revenue and profits have been on an improving trend since 2009 and the shares have rebounded.
PPHE Hotel Group's share price slump and rebound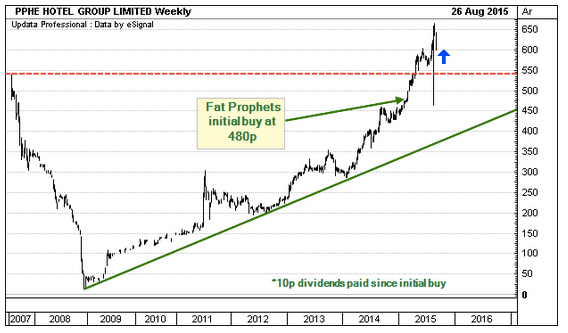 PPHE in focus

PPHE Hotel group is majority controlled by its founders Mr Eli Papouchado (77) and Mr Boris Ivesha (69) which makes the shares illiquid. Mr Papoucahdo is the non-Executive Chairman and Mr Ivesha is the President & CEO.
Both executives have a long history in the hotel industry and have been with PPHE Hotel Group for decades. New blood is now coming through in the form of Deputy CEO and CFO Chen Moravsky (44).
In 2014…

Unlock this article instantly by logging into your account
Don't have an account? Register for free and we'll get out your way
Disclaimer:
Fat Prophets has made every effort to ensure the reliability of the views and recommendations expressed in its reports. Fat Prophets research is based upon information known to us or which was obtained from sources which we believed to be reliable and accurate at time of publication. However, like the markets, we are not perfect. This report is prepared for general information only, and as such, the specific needs, investment objectives or financial situation of any particular user have not been taken into consideration. Individuals should therefore discuss, with their financial planner or advisor, the merits of each recommendation for their own specific circumstances and realise that not all investments will be appropriate for all subscribers. To the extent permitted by law, Fat Prophets and its employees, agents and authorised representatives exclude all liability for any loss or damage (including indirect, special or consequential loss or damage) arising from the use of, or reliance on, any information within the report whether or not caused by any negligent act or omission. If the law prohibits the exclusion of such liability, Fat Prophets hereby limits its liability, to the extent permitted by law, to the resupply of the said information or the cost of the said resupply. 
---
---

PPHE Hotel Group Limited is a hospitality company. The Company, through its subsidiaries, jointly controlled entities and associates, owns, leases, operates, franchises and develops upscale and lifestyle hotels in gateway cities and regional centers in Europe. The Company's activities are divided into Owned Hotel Operations and Management Activities. The Owned Hotel Operations are divided into three segments: the Netherlands, Germany and Hungary, and the United Kingdom. The Company's portfolio of owned, leased, managed and franchised hotels includes approximately 39 hotels offering over 9000 rooms. The Company's development pipeline includes approximately five new hotels and the extension and reconfiguration of one hotel. The Company's hotels operate under brands, which include Park Plaza Hotels & Resorts, art'otel and Arenaturist in Europe, the Middle East and Africa. It owns and operates hotels, restaurants, bars and spas across various countries in Europe. more »

LSE Price