PPHE Hotel Group's book value appeal
PPHE Hotel Group has seen its share price weaken recently on the back of mixed interim results. Revenue in the first half of 2016 increased by 9.2% to £111.6m but EBITDA profit fell 7.4% to £32.5m. The shares remain at a large discount to the market value of assets and the P/E rating for 2017 is modest.
The hotel sector is cyclical with tourist and business demand driven by economic growth and consumer confidence. As a consequence there tends to be significant investment in new hotels just before an economic downturn.
The bulk of hotel businesses also rely on debt financing given the capital-intensive nature of the business. This backdrop makes for volatile share prices with PPHE Hotel Group' shares plunging from 540p in 2007 to 12.5p in late 2008.
PPHE's three hotel brands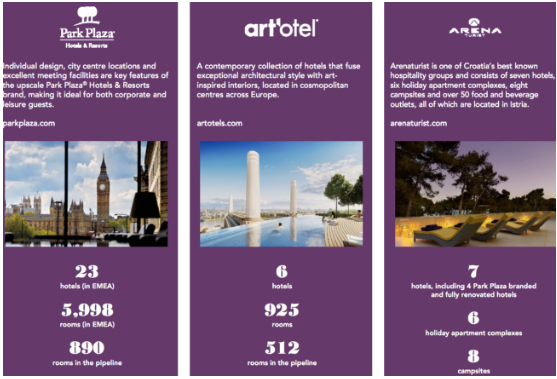 Source: PPHE Hotel Group

PPHE group has recovered from the global financial crisis but trading in the first half of 2016 was mixed. Like-for-like occupancy rates fell to 70.8% from 75% last year while like-for-like average room rates improved by 6.3% to £103.5.
The net result was that the like-for-like revenue per available room (RevPAR) edged up by 0.3% to £73.2. However, reported revenue per available room fell 16% in the first half versus only a 1.7% in the first quarter.
A new hotel opening in Q2 did have a negative impact on the like-for-like figures but there still appears to have been an underlying slowdown. The outlook for the full year is mixed with terrorist events set to curtail European travel.
PPHE Group first half trading result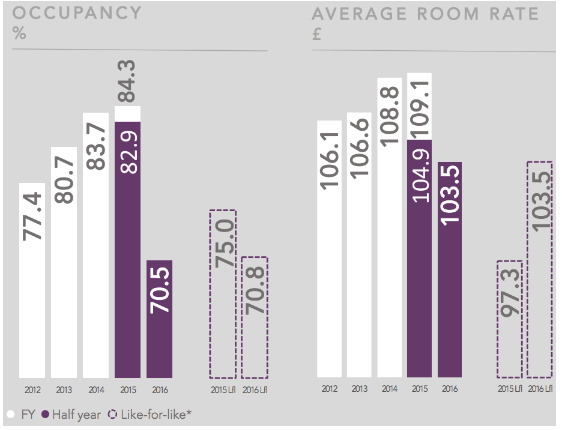 Source: PPHE Group investor presentation

Divisional performance: UK weakness hits EBITDA profit
The United Kingdom is the most important market for PPHE Hotel Group and as such the reporting currency has been changed to sterling. The UK experienced trading weakness in the first half with revenue down 3.1% to £66.4m.
Revenue per available room (RevPAR) fell by 4.7% to £109 in H1 2016, on a year ago, with a higher average room rate failing to offset a fall in occupancy. EBITDA profit generated in the UK fell by 13.8% on a year ago to £21m.
The Netherlands saw revenue increase by 12.7% to £23.2m while EBITDA profit improved by 16.3% to £7.4m. RevPAR increased by 13.2% to £83.5 as both room occupancy and the average room rate improved.…

Unlock the rest of this Article in 15 seconds
Already have an account?
Login here