Pub groups offer food for thought
According to the British Pub Association up to 29 pubs are closing in the UK every week. Headwinds include beer duty, cheap supermarket alcohol, demographics and changing consumer tastes.  However, pub groups like Marston's and Greene King are focusing on food and seeing solid like-for-like sales growth.
The changing face of the British high street is illustrated by the growth of coffee shops and the decline of drink-led pubs.  Costa Coffee, owned by Whitbread, is even opening new coffee shops in converted pubs.
According to the Office for National Statistics in 2013 only 18% of young adults (16-24) "binged" at least once a week versus 29% in 2005.  Over a fifth of all UK adults now say that they do not drink alcohol.
This appears to be a tough backdrop for the pub industry and helps explain the familiar sight of boarded up pubs. However, there are also opportunities for the sector with the main one being the growth in casual dining in the UK.
Food allows pubs to attract a broader demographic and increase spending per head. Marston's is one pub group changing tack with its 'F-plan' focusing on food and attracting families, females and forty/fifty somethings.
A new build Marston's pub: open & attractive to all?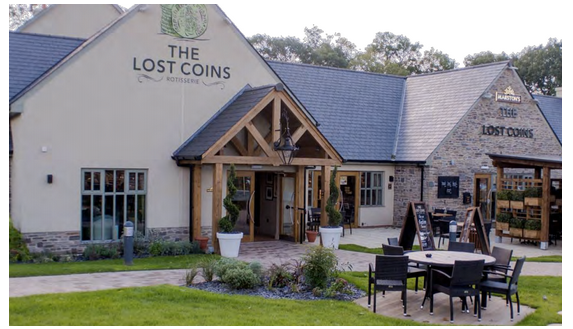 Source: Marston's investor presentation

Both Greene King and Marston's are also building new pubs and that generate high returns on capital.  As such the British pub sector merits investor attention as it adapts to a changing environment.
The backdrop for the UK consumer is also positive with unemployment falling and real wage growth returning.  This should encourage people to head down the pub rather than staying at home with cheap supermarket booze.
Greene King
Greene King has a long history with its operations having started as far back as 1887.  Its three business areas are Retail with 1,100 managed retail pubs, the leased "Pub Partners" business and lastly the brewing & brands division.
Greene King's three areas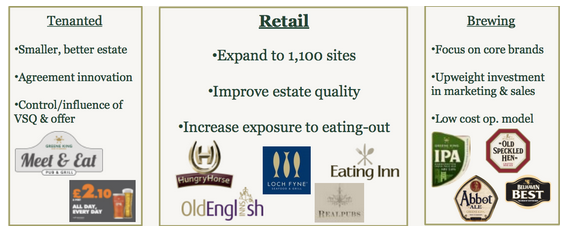 Source: Greene King investor presentation

Greene King states that it has an: "evolving strategy to accelerate Retail exposure and move beyond conventional pub offers." This includes opening new Retail pubs which have a greater focus on food.
In the half-year period to October 2014 the Retail division saw food account for 42% of revenue.  In the financial year to May 2014 food like-for-like sales in the Retail division were up by an impressive 5%.   …

Unlock the rest of this Article in 15 seconds