Quarto: Déjà vu all over again
Disclosure: I have an interest in Quarto shares
Introduction
Quarto reported results today. For those wanting some background, I'll requote what I first said when I looked at the company:
Quarto are in publishing, but with a few key differences from firms that may immediately spring to mind. The most important one is probably the type of books they are producing. Instead of focusing on fiction, a rather hit & miss affair that hopes to churn out a few bestsellers every year to compensate for some of the flops, Quarto have a varied portfolio of books with very narrow remits and niche audiences. Perhaps I could best illustrate this with their best selling book in 2010: 'Complete Guide to Wiring'. By focusing on books for such small groups of people and keeping such a wide portfolio, Quarto remain fairly insulated from the more brutal swings in consumer spending.

Over two thirds of the group's sales come from backlist – titles published in prior years. No title accounts for more than 1% of group revenues in any given year; last year, the biggest was around 0.6%, the second around 0.4%, and the tail develops after that. I repeat those facts as a sort of mantra when people ask about Quarto, because when I tell them it's a book publishing company I always get the same blank stare. Investors remember Quercus, which blew up after over-stretching itself after the success of Stieg Larsson. Investors remember Bloomsbury, which saw its revenues double and then drop by 33% in consecutive years thanks to Harry Potter. 
I think it's undeniable that Quarto are fundamentally different.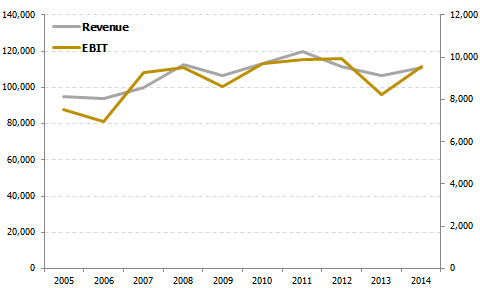 It's difficult to find any business which exhibits this sort of stability. To be fair, I should note that the EBIT figure above is the famous 'underlying' EBIT figure – and the group did book fairly significant restructuring charges in the recession, as well as the odd exceptional in prior years.
Trading update
The trading update today should have surprised no-one; the group had telegraphed twice in their announcements that the year would be more second half weighted than prior years. Some scepticism is always warranted with the claim, but you can always feel more comfortable when it's pre-warned rather than announced on the day as an excuse for poor performance. The company's explanation, namely currency factors and ongoing 'retail trends'  - a slow shift toward customers…

Unlock the rest of this Article in 15 seconds
Already have an account?
Login here