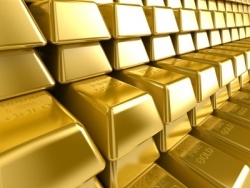 For a well managed gold miner an increase in the gold price in combination with rising production can only mean one thing: strong profits growth. Randgold Resources (LON:RRS) was not an exception to this rule with profits in 2009 up 79% on a year ago at US$84.3 million. Of this nearly half of the profits for the year (46%) came from the last quarter.
In the first quarter of 2010 profits growth was maintained, with a rise of 83%, driven mainly by the higher gold prices. For investors Randgold resources offers exposure to a business that will continue to grow output, has strong cashflow and cash balances, as well as being a leveraged play on the gold price.

During 2009 Randgold had cash operating costs of $473 and obtained a sales price of $864 an ounce giving it a cash profit margin of $391 an ounce. If we assume that the cash price received for gold ounces produced in 2010 comes in at $1,250 this would be an increase of 44.7% on the prior year. 
However, if cash costs stay the same at $473 then the cash profit margin would rise to $777 in 2010. This represents an increase of 98.7% or nearly double. Thus a near 50% increase in the gold price received would double profits for Randgold if costs stayed the same.
Gold miners that can increase production offer even better exposure and it is here that Randgold stands out. Output increased 14% rise in 2009 to 488,255 ounces (428,426 in 2008). This look sets to continue into the long-term as the attributable mineral resources rose by 75% during the year and total mineral resources were up 69%.
This was driven by new projects and a resource conversion drive. Thus at the attributable level the measured, indicated and inferred resources rose from 16.13m ounces to 27.33 million ounces. Excluding the Morila mine the average grade of reserves is 4 grams per tonne.
At present the bulk of output, at 72%, came from the flagship Loulo mine in the West African country of Mali. Thus the Randgold story has to a large extent been about the development of mining outside of historically mature areas such as South Africa and Ghana.
The Loulo mine produced 351,591 ounces - up 37% on the year before - with growth coming from the completion of…

Unlock this article instantly by logging into your account
Don't have an account? Register for free and we'll get out your way
Disclaimer:
Fat Prophets has made every effort to ensure the reliability of the views and recommendations expressed in its reports. Fat Prophets research is based upon information known to us or which was obtained from sources which we believed to be reliable and accurate at time of publication. However, like the markets, we are not perfect. This report is prepared for general information only, and as such, the specific needs, investment objectives or financial situation of any particular user have not been taken into consideration. Individuals should therefore discuss, with their financial planner or advisor, the merits of each recommendation for their own specific circumstances and realise that not all investments will be appropriate for all subscribers. To the extent permitted by law, Fat Prophets and its employees, agents and authorised representatives exclude all liability for any loss or damage (including indirect, special or consequential loss or damage) arising from the use of, or reliance on, any information within the report whether or not caused by any negligent act or omission. If the law prohibits the exclusion of such liability, Fat Prophets hereby limits its liability, to the extent permitted by law, to the resupply of the said information or the cost of the said resupply. 
---
---

Barrick Gold (Holdings) Ltd, formerly Randgold Resources Limited, is engaged in gold mining, exploration and related activities. The Company's activities are focused on West and Central Africa. The Company operates through the gold mining segment. The Company operates various mines, such as Morila, Loulo, Gounkoto, Tongon and Kibali. The Company is exploring in African countries, such as Mali, Senegal, Cote d'Ivoire and the Democratic Republic of Congo (DRC). The Company also holds an interest in the Massawa project. The Company holds Morila Limited, which holds interests in the Morila mine in Mali. The Company holds a controlling interest in the Loulo mine, located in Mali, through Societe des Mines de Loulo SA (Loulo). The Loulo mine is mining from over two underground mines. It has a controlling interest in the Gounkoto mine through Societe des Mines de Gounkoto SA. more »

LSE Price