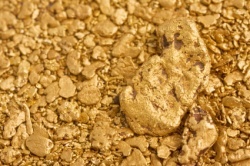 Despite a 92% year on year increase in profits posted during this year's second quarter and an 88% jump in profits for the first half of 2010, the share price of Randgold Resources (LON:RRS) has not been able to sustain the gusto of recent times.  Investors have seemed to focus on operational issues however the recent bout of gold price strength does provide cause for optimism. 
Attributable gold production fell from 112,663 ounces in this year's first quarter to 93,880 ounces in this year's second.  The fall in production was largely due to power outages at Loulo in Mali and was largely responsible for pushing up the cash cost of production from US$553 per ounce in 1Q10 to US$604 per ounce in the second quarter. Total cash costs increased from US$617 to US$665 per ounce.
Loss of production from Loulo will be partially compensated by positive news that the commissioning of the Tongon mine in the Ivory Coast was ahead of schedule.  As a result the company has increased its production target for 2010 by approximately 10%.
Power black-outs are a fact of life in many African countries and they play havoc with smelters, and with mines without backup facilities. Extensive power outages at Randgold's flagship Loulo mine increased costs significantly upsetting the company's cost profile for the period.
The company expects to get costs back on target by 4Q10. The company's Chief executive Mark Bristow believes that despite lost production at Loulo, the group's production for the year should be within 5% of budget. The original forecast for attributable production in 2010 was 477,000 ounces.
The feasibility study for the Gounkoto (Mali) has progressed satisfactorily and consideration is being given to developing Gounkoto in conjunction with the nearby Loulo mine. This would create a very large high grade and low cost mining centre. However, the company would have to make sure that power is available without disruptions. 
Gounkoto is only 25 kilometres from the Loulo processing facility. Putting the two projects together would result in two open pits and one underground mine. The feasibility study for Gounkoto is scheduled to be finished before the end of 4Q10. The deposit has simple metallurgy and is high grade. Indeed all of the company's mines are above average grade which should ensure success.
The company believes that Mali has the potential for many more discoveries but that…

Unlock this article instantly by logging into your account
Don't have an account? Register for free and we'll get out your way
Disclaimer:
Fat Prophets has made every effort to ensure the reliability of the views and recommendations expressed in its reports. Fat Prophets research is based upon information known to us or which was obtained from sources which we believed to be reliable and accurate at time of publication. However, like the markets, we are not perfect. This report is prepared for general information only, and as such, the specific needs, investment objectives or financial situation of any particular user have not been taken into consideration. Individuals should therefore discuss, with their financial planner or advisor, the merits of each recommendation for their own specific circumstances and realise that not all investments will be appropriate for all subscribers. To the extent permitted by law, Fat Prophets and its employees, agents and authorised representatives exclude all liability for any loss or damage (including indirect, special or consequential loss or damage) arising from the use of, or reliance on, any information within the report whether or not caused by any negligent act or omission. If the law prohibits the exclusion of such liability, Fat Prophets hereby limits its liability, to the extent permitted by law, to the resupply of the said information or the cost of the said resupply. 
---
---

Barrick Gold (Holdings) Ltd, formerly Randgold Resources Limited, is engaged in gold mining, exploration and related activities. The Company's activities are focused on West and Central Africa. The Company operates through the gold mining segment. The Company operates various mines, such as Morila, Loulo, Gounkoto, Tongon and Kibali. The Company is exploring in African countries, such as Mali, Senegal, Cote d'Ivoire and the Democratic Republic of Congo (DRC). The Company also holds an interest in the Massawa project. The Company holds Morila Limited, which holds interests in the Morila mine in Mali. The Company holds a controlling interest in the Loulo mine, located in Mali, through Societe des Mines de Loulo SA (Loulo). The Loulo mine is mining from over two underground mines. It has a controlling interest in the Gounkoto mine through Societe des Mines de Gounkoto SA. more »

LSE Price