Real Estate's risks and rewards
Growing demand for real estate in the UK and constrained supply suggests that the sector is attractive for investors. However, real estate is also cyclical and deploys significant financial leverage to boost returns. This can be a deadly combination during a downturn and has led to mixed results among listed real estate groups.
The American author Mark Twain earned a significant income from his writing but lost part of his wealth in technology related investments. This backdrop may help explain his quote: "Buy land, they're not making it anymore."
The British phrase 'as safe as houses' is also notable and underlines the importance of property in the British psyche. The origin of the saying is said to be that when the 1840s railway bubble burst investors turned to property as a safer area to invest in.
Another notable real estate quote is that: 'There are three things that matter in property: location, location, location.' This is attributed to Lord Samuel who is the founder of the UK's largest real estate company Land Securities.
Six of Land Securities' top ten assets: want a piece of this?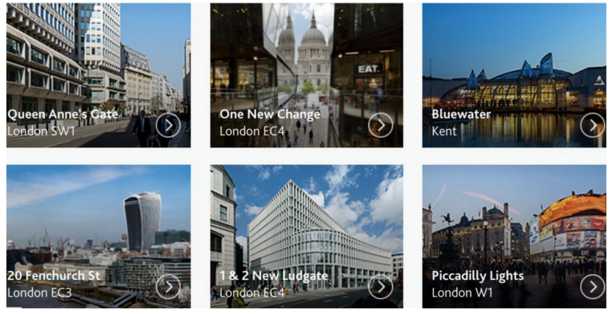 Source: Land Securities' website
This cultural backdrop highlights that real estate is seen as tangible and dependable area in which to invest. However, listed real estate companies have provided a bumpy ride for investors.
Land Securities, the UK's largest real estate group, saw its share price triple from 2002 to 2007 and then fell back by over three quarters. Being a bluechip real estate stock is clearly no guarantee of resilience when a recession takes hold.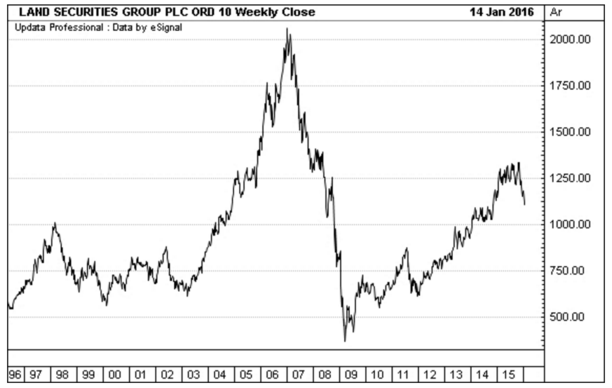 Real Estate dynamics
The flaw in the business model of real estate groups is that they are unable to preserve value during an economic downturn. Taking the office market as an example and supply growth tends to ramp up just before economic conditions weaken.
We then see credit conditions tighten during a recession which puts pressure on real estate companies with meaningful leverage. This backdrop leads to empty buildings, falling rents and a number of real estate groups falling into bankruptcy.
One of the most prolific collapses in the UK was the failure of Canary Wharf in the early 1990's recession. This helped bankrupted its owner, Olympia & York, with the docklands development failing to persuade financial institutions to move east in sufficient numbers.
The 2008 global financial crisis hit the new owner of Canary Wharf, Songbird Estates, with its shares falling from…

Unlock the rest of this Article in 15 seconds
Already have an account?
Login here