Refer a Friend Programme: Share Stockopedia and save money on your subscription
We regularly hear from our subscribers that Stockopedia's appeal lies in both the power of our investment research tools and the supportive network of like-minded investors that we have here. This community spirit is a major reason for the popularity of the service, and we appreciate that so many of you share your personal experiences and tell others about us.

Subscribers often ask us how best to directly introduce others to the platform (and if there are any advantages of doing so). Today we're delighted to introduce our new Refer a Friend programme, which allows you to gift an exclusive discount to your friends and earn significant lifetime rewards for every friend you refer.
These rewards can quickly build up to give you a completely free subscription to Stockopedia.
Here's how the new Refer a Friend programme works...
How it works
30 days after your first billing date, you'll be able to access a unique referral link that you can share with friends, family, or anyone you think could benefit from Stockopedia in the same ways that you do.
When your friends subscribe to Stockopedia via your link, they will have the usual 2 weeks of completely free access. However, when they stay beyond the end of their trial:
They'll benefit from a 10% discount on their subscription for as long as they remain a subscriber.
You'll save 10% on your subscription fee for as long as they remain a subscriber.
For you, the benefits are cumulative - if you refer 10 friends via your unique link and they stay forever, you'll never have to pay to use Stockopedia again. When you refer a friend, we save on marketing and advertising. We're passing all of that saving directly to you and your friend as a way to say thanks.
1. Get your unique referral link
You can begin using the Refer a Friend programme 30 days after your first billing date, at which point we'll generate your unique referral link. To access and share your link:
Log in to your Stockopedia account.
Click on your avatar in the top right-hand corner of the site and select "Refer a Friend" .
Copy your unique link with one click.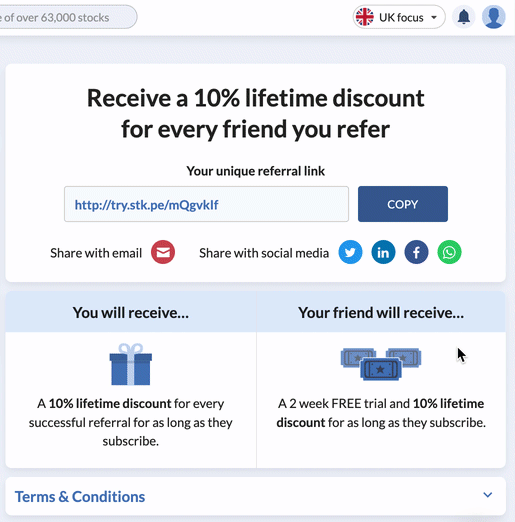 2. Share your link with friends
To benefit from our Refer a Friend programme, your friends need to sign up using your…

Unlock the rest of this article with a 14 day trial
Already have an account?
Login here