Released: Discover the major shareholders & recent buy/sell sentiment in any share
We've just released a set of impressive new upgrades to StockReports. Not only can you now research the major shareholders of global shares, but you can also assess recent buy/sell sentiment of major shareholders, company directors and the Stockopedia community as a whole.
Gauge the recent buy/sell sentiment of any share in the market
Towards the top of a company's StockReport, just under the share price chart, you'll find a new Shareholder Activity widget which is a powerful new feature that will accelerate your research.
This widget shows you the buy, sell and hold ratios for institutional shareholders, directors and even Stockopedia subscribers over a three month period where available. Clicking on the View buttons next to the Institutions and Directors ratio bars will take you through to the Major shareholders and Directors dealings pages respectively, so if any trading activity on this widget captures your attention you can investigate further.

At present, UK stocks have access to all three ratios. You'll find Institutions and Community ratios for stocks around the world, and we hope to expand our coverage of Directors dealings over time.
It is also worth mentioning that Community data will only show up for stocks with a certain level of trading activity. When no community stats are available, it means we don't have enough transactions in that stock. That in itself might be a useful indication that you are looking at a company others have missed.
You can learn more about these features in the Stockopedia Guide:
Know the major shareholders of the companies you invest in
You now have the ability to dive deeper into the shareholder base of any stock with the new Major shareholders tab. In seeing who owns this stock, you can gain an added layer of insight into the nature of a company that you might miss through fundamental screening alone.
To access the Major shareholders page you can either click through directly from the feature above, or access from a drop-down menu in the Accounts tab.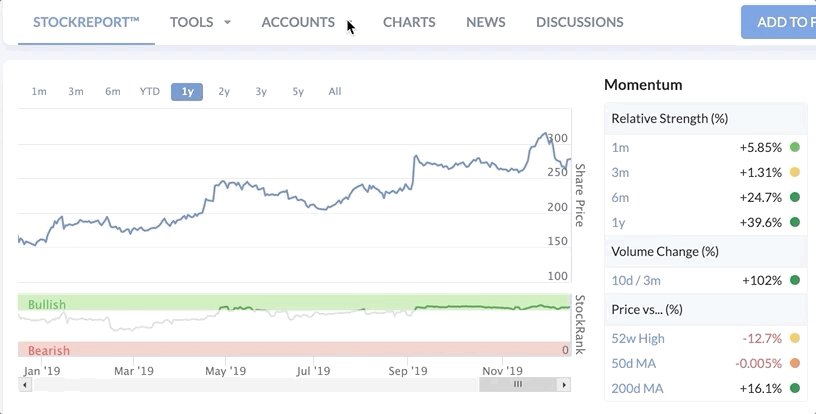 Click on it and you will be taken to a page showing the major shareholders of a company. On the left hand side of this page is a table displaying:
…

Unlock the rest of this article with a 14 day trial
Already have an account?
Login here