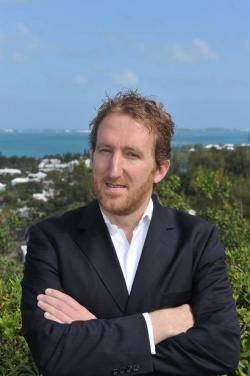 Rialto Energy (LON:RIA) is a dual listed (ASX/AIM:RIA) oil and gas exploration company focused on the West Coast of Africa, notably in Ghana on a 12.5% participating interest alongside Ophir, and in Côte d'Ivoire, where Rialto is the Operator holding a 85% working interest in the CI-202 offshore block. Rialto Energy also hold a 12% working interest in the WA-399-P exploration permit, which is located in the Exmouth Sub-Basin on the North West Shelf, offshore Western Australia, alongside Apache the operators, where a commitment well is expected in 2014.
Rialto had a mixed year with the drill bit in 2012 and in November Rob Shepherd was appointed as interim Chief Executive Officer replacing Mr. Jeff Schrull who stepped down in order to relocate. Rob Shepherd previously held the position of Finance Director at AIM Listed, African focussed, Dominion Petroleum, which was acquired by Ophir Energy for around US$220 million in February 2012.

Following the recent quarterly report and a visit to the Perth office, Rob Shepherd the Rialto Energy interim CEO has taken time out to discuss various aspects of the business, including, the West African licences, updated CPR, 2012 review, 2013 work programme and funding options.

As always, when looking at oil and gas exploration activity the risk element is high, and a dry or non-commercial well almost certainly results in a severe share price drop. Oil and gas exploration activity is also very costly business, hence the future economic outlook and the ability of an exploration company such as Rialto Energy to raise future capital to fund licence commitments along with its overheads also needs serious consideration, alongside factors such as oil/gas price risk, political risk, country/region stability etc.

Q1. Briefly, could you describe Rialto Energy's history, business model and mission?
As I only joined the Company in late November, I am probably not the most qualified to describe Rialto's history since inception. However, in terms of mission and business model, I think it is fundamentally about delivering optimum value to our shareholders. Our basic strategy is to identify and mature high impact exploration prospects and to mature potentially commercial discoveries. This does not mean we will always be drilling our prospects or developing our discoveries. If shareholder value can better be delivered by other means then we will look to pursue those…

Unlock this article instantly by logging into your account
Don't have an account? Register for free and we'll get out your way
Disclaimer:
This content has been created for information purposes only, and is NOT, in any way, a recommendation to invest.  This communication is a snapshot of a certain aspect of a discussed business at a moment in time, and is merely a basic starting point for research.  The article/thread has been created with honesty and integrity in mind and is based on publically available information sourced in relation to the title, such as from, RNS announcements, published reports, management comments, analyst reports, media coverage etc.  To this extent the author who has written the piece in good faith accepts no liability for the accuracy of the information and urges all readers to verify the content independently.  Please note that the value of investments may fall or rise and you may not get back the amount originally invested, or in some cases your investment may be wiped off altogether.  When investing, bear in mind that past performance is not a guide to future performance and that qualified independent financial advice should be sought before buying or selling shares.  The Author of this article may hold shares in the companies discussed.
---
---

Calima Energy Ltd, formerly Azonto Petroleum Limited, is an Australia-based oil and gas company. The Company is focused on finding and developing new projects. The Company is engaged in investing in oil and gas exploration and production projects internationally and specifically in West Africa. The Company operates in oil and gas exploration activities segment. Rialto Energy (Ghana) Pty Ltd is the subsidiary of the Company. more »

Price

Tullow Oil plc is an independent oil and gas exploration and production company. The Company's primary activity is the discovery and production of oil and gas. Its segments include West Africa; East Africa, and New Ventures. The West Africa Business focuses on its production and development projects in West Africa and Europe. The business includes its operated asset, the Jubilee field in Ghana, the TEN Project and a portfolio of non-operated production assets in approximately five countries across the region. The East Africa Business is focused on exploration activity across the Company's acreage position in Kenya. The New Ventures Business is focused on its frontier exploration and appraisal activity across Africa and South America. It manages its New Ventures portfolio through both license acquisitions and farm downs of existing acreage. Its activities include targeted exploration and appraisal, and selective development projects. It has operations in Africa and South America. more »

LSE Price

Ophir Energy plc is an upstream oil and gas exploration and production company focused on Asia and Africa. The principal activity of the Company is the development of offshore and deepwater oil and gas exploration assets. The Company's geographical segments are Africa, Asia and are head-quartered in London, United Kingdom. In Africa, the Company has interests in Equatorial Guinea, Gabon, Cote d'Ivoire, Tanzania and Kenya. In Asia, the Company has interests in Myanmar, Malaysia, Thailand and Indonesia. It holds a 50% operated interest in Mbeli and Ntinsa Blocks and a 100% operated interest in Gnondo, Manga, Nkawa and Nkouere Blocks in Gabon. It also holds a 70% operated interest in Bangkanai Block; a 70% operated interest in West Bangkanai Block, and a 100% operated interest in North East Bangkanai Block. more »

LSE Price