RM: Back from the brink?
"We have delivered another good half year of results and are on track with our journey back to growth". That was the opening line from RM's CEO David Brooks in the company's most recent interim statement. It was a stark contrast to 2011 when the company's share price fell by more than 66% and the company was forced to cut its dividend by 54%. The last few years have been tough for RM who provide schools with education and data resources, but the latest figures suggest that RM could be on the road to recovery. The stock's improving StockRank has encouraged us take a closer look...

Back from the brink?

Most of RM's business is funded from UK government sources. The tightening of public sector budgets helped drive earnings into negative territory from 18.2p per share (2010) to -2.69p per share (2011). Revenues dropped from £380m to £351m in the same timeframe and have gone on to decline each year since then. However, RM's recent interim results revealed that the company expects revenue growth in 2016. The interim dividend has also increased by 25% to 1.20p.
Since RM released its interim results on 6 July, the company's StockRank has risen from 84 to 98 - as you can see from the StockRank Movers page below. To assess whether a company is a recovery play, Peter Lynch, the author of What works on Wall Street, asks three important questions:
How is the company supposed to be turning around?
Are costs being cut?
Is the business coming back?
Let's take a look at these questions in more detail.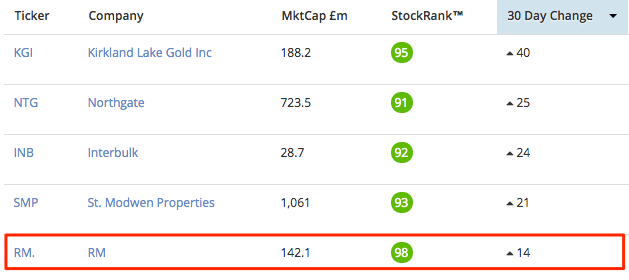 "How is the company supposed to be turning around?"
After earnings crashed in 2010, RM undertook a strategic review which concluded that the company would concentrate on its core UK education market, restructure into four operating divisions, dispose of a number of business operations, and integrate the remaining activities more fully. With a view to dispose of operations that were either 'loss-making or of marginal profitability', RM disposed of its US hardware business and Australian operations. Furthermore, RM Education ceased selling personal computing devices in December 2013 and stopped manufacturing hardware devices in June 2014.

Unlock the rest of this Article in 15 seconds