Robert Walters - It's all about Asia
Robert Walters (LON:RWA) is one of the world's leading professional recruitment consultancies, specialising in the placement of permanent, contract and temporary positions across all levels of seniority. Established in 1985, Robert Walters (LON:RWA) recruits across the accounting, finance, banking, IT, human resources, legal, sales and marketing, supply chain, procurement, engineering and support fields. With offices in 30 countries our truly global network enables us to meet the demands of clients and candidates whose needs extend beyond local markets, whilst our strong local foundations provide us with unique insights into local industry and culture.
Introduction
OK enough of the marketing BS. Generally my aim is to identify high-quality, cash-generative companies that are priced reasonably. This might seem like an overcrowded trade but even the best companies can fall back when there are concerns about cyclical markets, future growth potential and economic conditions. To find these shares I run a number of filters over the whole UK market and a while back recruiter Robert Walters (LON:RWA) popped up. After some thought I invested and saw the share price both continue upwards and plunge downward as sentiment changed; given that the price is currently at a low point I thought that I should revisit the company to see whether the investment case still stands up.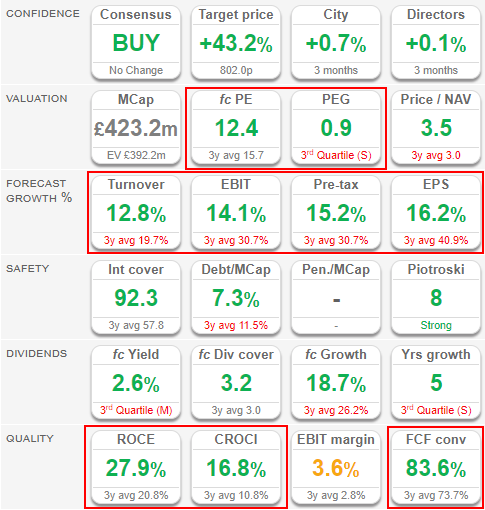 Looking at the SharePad summary I very much like to see an all-green set of values. More specifically ROCE of 27.9% and CROCI of 16.8% are both high values which are continuing to improve (compared to the 3-yr average). Driving this change, in part, has been sales/profit growth and both of these are set for double-digit growth according to forecasts. This compares favourably with a P/E of ~12, where this is down from recent highs, although growth has slackened compared to the 3-year average. In my mind then Robert Walters (LON:RWA) passes the quality/value test at the high-level.

The summary from Stockopedia backs this up with a very high QualityRank of 99, largely driven by ROCE and a high Piotroski F-Score, with the ValueRank coming in at 56. This is a little lower than I'd expect with the culprits being a middling yield, of…

Unlock this Article with a 14 day free trial
Already have an account?
Login here