Safeland PLC: Profitable Nano-Cap Trading At Half Of Its Net Current Asset Value
Summary
• Stock meets Benjamin Graham's 'net-net' criterion: current assets minus total liabilities are greater than 150% of market capitalisation
• Almost 10% of last year's net income has been spent on stock repurchases so far in this financial year
• Net income for FY 2017 was £2.3m; current market capitalisation is £7.8m
• Management has excellent record for increasing net asset value and generating returns for shareholders
Company Profile
Safeland PLC (SAF:LN) trades, refurbishes, develops and invests in property. It seeks to add value to properties, in the short term, through redevelopment and by improving management.
Four companies, whose services range from property insurance, management and architecture to storage space, workspace and operating hostels, have demerged from Safeland between 1996 and 2014. The company's expertise lie in quickly identifying opportunities to buy properties that they can add value to by reconfiguring or changing use.
The stock is currently trading at 52p, which is half of its net current asset value (net of total liabilities) per share. The stock is very thinly traded, with only 138,012 shares changing hands last week. The bid/ask spread is currently 8%, but has been much lower when trading volumes have been higher, and many brokers are able to offer more favourable prices for investors to buy or sell at.
Management and Governance
The increase in Safeland's net asset value per share indicates that its management is capable of creating value for shareholders. It has grown consistently in recent years whilst a fair portion of profits has been paid as dividends.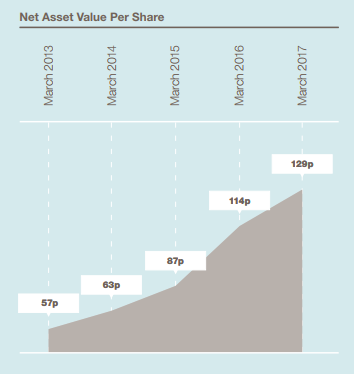 Source: Safeland PLC 2017 Annual Report
Safeland has redistributed profits to shareholders, through dividends and share repurchases, intermittently. The inconsistent dividend schedule is due to volatile earnings and the company identifying investment opportunities at variable times. Management have chosen to retain a higher portion of earnings on these occasions.
 


Source: www.hl.co.uk
Buying back shares in the company has signalled management's belief that the shares are undervalued. £65,000 of shares were repurchased in FY2016 and £10,000 in the following year. Since the financial year ending 31st March 2017, 380,000 shares have been repurchased and cancelled by the company at a cost of £214,672 excluding transaction fees. Companies that buy back their own stock tend to outperform.
There is significant insider ownership, which is encouraging for shareholders who can be confident that management are acting within their best…

Finish reading with a 14 day trial
Already have an account?
Login here