Screening for Value: Earnings-based Picks from the Resources Sector
Over the past few weeks, I have been looking at companies highlighted by my earnings-based stock screen. So far, I've found eight non-resource companies that made it firmly onto my watchlist: James Latham (LON:LTHM) Quarto (LON:QRT) Zytronic (LON:ZYT) MJ GLEESON (LON:GLE) Sanderson Design (LON:SDG) Renold (LON:RNO) Arcontech (LON:ARC) Luceco (LON:LUCE) . This week I continue the search for interesting value investments by looking at the companies from the resource sector. Here are the companies that the screen highlighted: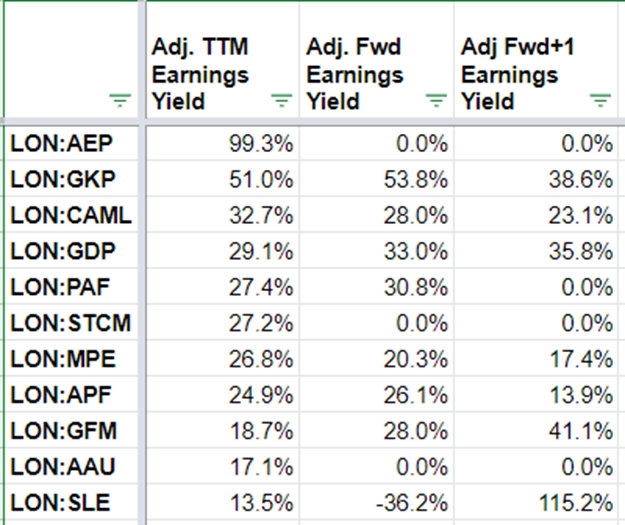 Value Investing & Risk
The first thing to note when looking at this list of companies is the level of political risk that investors are taking. For example, they include oil producers in Nigeria and Kurdistan and gold miners in South Africa. Many investors may conclude that there is a reason why these companies are cheap. And they would be right. Very few companies find their way onto a deep value screen without some hair on them.
However, before ruling these out entirely, it is worth thinking a bit more about the nature of stock market risk. There are two types of company risks: idiosyncratic and systemic. Idiosyncratic risks are risks that are specific to a particular company. In contrast, systemic risks are those that impact the overall market or sector. So, for example, a coup in the country of operation is an idiosyncratic risk for a company, whereas a market crash or a rise in global interest rates is a systemic risk.
Investors cannot wholly escape risk in their portfolio. Often strategies that purport to do this simply move the risk from a known and estimable quantity to a hidden and unquantifiable one. Just ask investors who had "portfolio insurance" in October 1987 or held AAA-rated subprime CDOs in 2008! However, there is one key element of idiosyncratic risk: it is diversifiable. For example, political instability or a change in mining laws in South Africa is unlikely to be correlated with changes in oil production payments in Kurdistan.
So when faced with a compelling valuation but an uncomfortable level of idiosyncratic risk, the value investor can protect themselves by only putting a small amount of their portfolio in each stock. By holding many such companies, plus more significant positions in safer companies with compelling valuation characteristics, the…

Unlock the rest of this article with a 14 day trial
Already have an account?
Login here