Semi-Year SNAPS 2019 - how many stocks are enough?
So the first half of 2019 has been a bit of a shocker for the NAPS (my 'no-admin-portfolio-system'). While the major market indices have bounced from the end of year lows, the NAPS portfolio has languished. The NAPS year to date have generated a -0.1% capital return against a FTSE All Share return of +10.4%.
As a headline figure that's very poor, especially as the 90+ StockRank set of shares from which the NAPS are selected have returned 11.3% slightly ahead of the market. This puzzling show has drained some of the outperformance from the long term results. Nonetheless, excluding dividends, the NAPS have generated a return of 90% over the last 4.5 years versus only 14% for the FTSE All Share. Given the lion's share of the outperformance has all been generated in years 1-3 the question that will be on everyone's lips is - have the NAPS stopped working?
Performance Review
As you can see in the chart below, the NAPS (in blue) has significantly lagged the FTSE All Share (in grey) year to date.

Although the picture is far healthier since inception in January 2015.

The SNAPS Portfolio, which is the semi-year rebalanced version of the NAPS, is lagging a bit further behind... with an 82% return since inception. You can see the overall numbers, year to date and since inception in the chart below.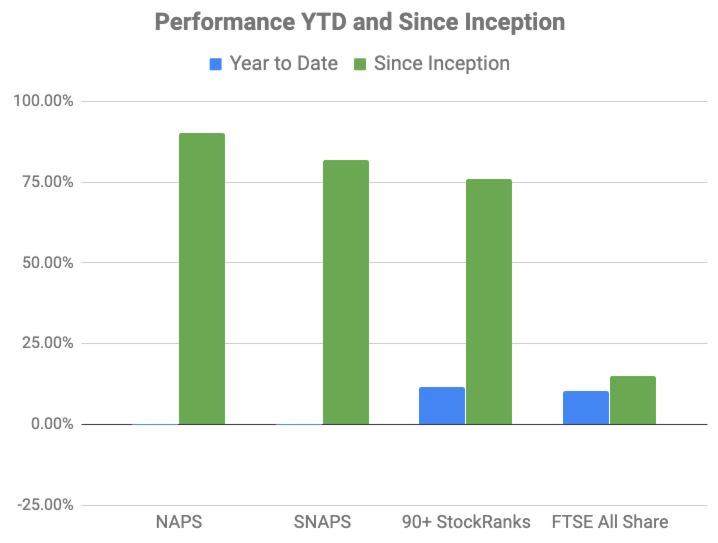 Winners & Losers year to date
The top winners year to date have been D4T4 Solutions, Evraz and Emis, but they've been offset by a larger than usual mix of losers. The big loser for the year is Plus500. Down by 58%. After gaining 53% in 2018 this is of course disappointing. A gain of 53% followed by a loss of 58% should equate to an overall 36% loss of the starting capital invested in Plus, but the magic of rebalancing has actually brought the total loss on Plus 500 to only 0.2% over the 18 month period.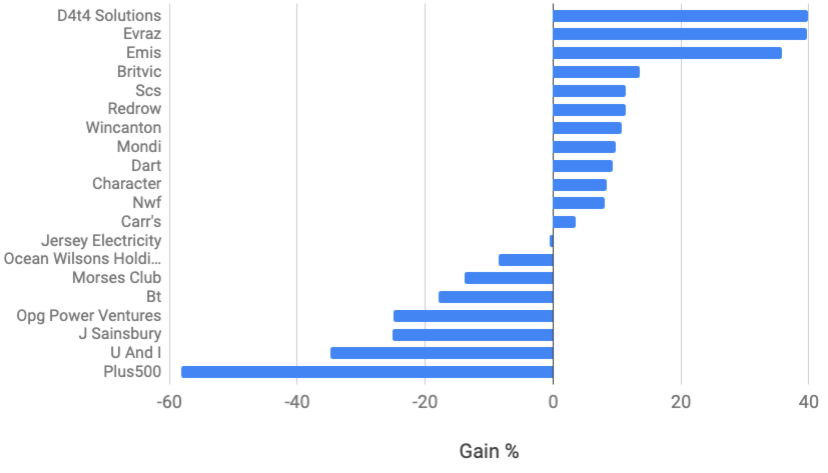 Plus 500 can only explain 3% of the underperformance year to date - but the whole portfolio has dragged. As you can see above the portfolio has generated 12 winners and 8 losers. That's a 60% hit rate of selecting winners - which is ok, but I've a…

Unlock the rest of this article with a 14 day trial
Already have an account?
Login here