Seven Important Factors why Carillion PLC Became the Most Shorted Company
Who would have thought that Carillion PLC was going to take a big tumble (pause), a 75% depreciation of its share price in a matter of days! For those who were invested in the shares (whether directly or indirectly), this was devastating.
With every great mistake, there is a great lesson to be learnt!
Let's find out why investors are so scared of Carillion PLC. 
Always observe the "Short Position"
Before we do any research, head over to the UK short interest tracker website. You see Carillion is the most shorted stock. The website shows short position going back to 2013. For Carillion, the short-sellers have begun establishing their positions from early 2015.
But, not all short companies mean falling share price. Take WM Morrison, for example. It is the third most shorted stock with 16% of shares on loan (greater than Tesco and Sainsbury), but the share price has recovered 70% from their lows. 
Sometimes, short sellers do get it wrong!   
Now, the question you want to know is: "Will Carillion implement the necessary restructuring to survive?"
And that requires some research. 
Are Carillion acquisitions strategy paying off?
The "ONE" reason, most businesses give to justify any acquisition is "VALUE", with "synergy/compatibility" coming in at a close second.
At the end of the day, the only guarantee from an acquisition is acquiring the company's sales (unless it's at "pre-sales" stage). Carillion made three major acquisitions, but the results have been disappointing: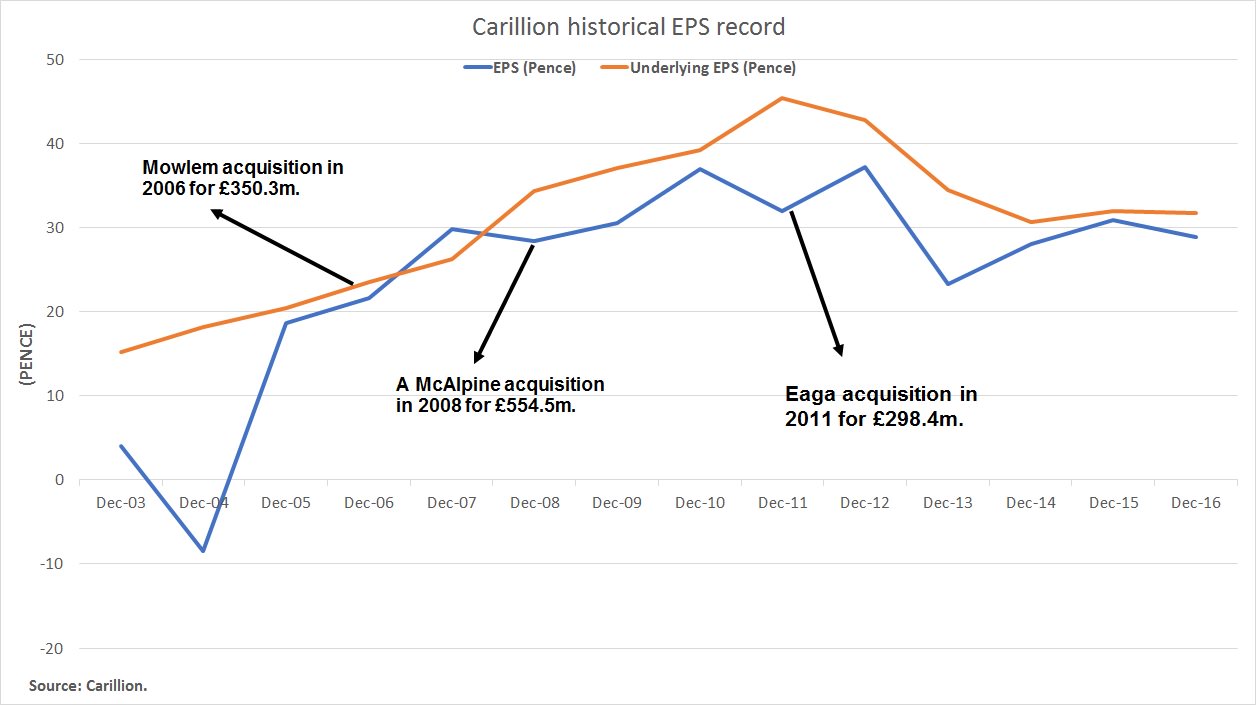 Carillion spent over £1.2bn on Mowlem, A McAlpine and Eaga.
All three have given the company a sales uplift from £2.28bn to £5.2bn of sales since 2005 while underlying profits have increased from £43m to £151.7m, a 252% growth.
These are positives, but investors are most interested in EPS growth. On that measure, underlying EPS growth grew by 55%, due to the increase in shares outstanding, while year-end borrowings rose from £90m to £689m. The increase is the equivalent of £1.40 per share!
(Important Observation): Since their last major acquisition in 2011, Carillion saw EPS fell from 37.2 pence in 2012 to 28.9 pence in 2016.
That is telling you the company relies on acquisitions to grow sales and profits, but not necessarily shareholders' wealth.
Lesson:…

Finish reading with a 14 day trial
Already have an account?
Login here