Shares in Sage may offer progressive dividend growth, but the yield is weak
Sage Group is the UK's leading accounts software company for small and medium businesses, and is quite possibly the only accounts software company you've ever heard of (if you've heard of any).
It's been quite a success story too. In 1981, what became the company's first product started out as a computer program written by a student as part of his summer job. Soon afterwards the company was formed and by 1989 it has listed on the stock exchange. Just 10 years later it entered the FTSE 100.
Today Sage is a very different company, with more than 250 products on all manner of hardware and software platforms. These products are sold to and used by more than 6 million small and medium sized businesses across the world, with just 18% of revenue now generated in the UK.
Its business model is to provide small and medium businesses with accounting and related software as well as 24/7 telephone support, and to offer companies a migration path onto both additional and more sophisticated (and expensive) software as small businesses and their accounting needs grow.
In recent years the software side of the business has gradually moved to a subscription model like much of the software industry. Rolling subscriptions rather than one-off payments mean constant upgrades for customers via the internet and reliable, recurring revenues for software providers.
Recurring revenues from subscriptions and support services now account for some 71% of the company's total revenues.
Here's a snapshot of how Sage has performed over the last decade: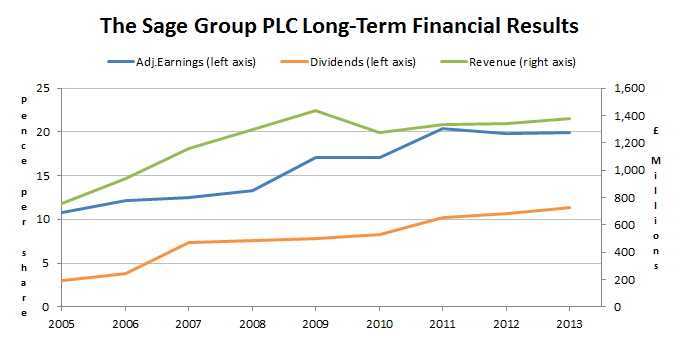 As you can see it's been a story of steady growth and a progressive dividend. Here are some key numbers):
Growth rate – Overall growth has been 10% a year, although that's skewed upwards by the near 15% a year growth in the dividend, which is highly unlikely to be repeated. Earnings have grown at about 9% a year while revenues and book value have grown at closer to 5% a year
Growth quality – Revenues, earnings and/or dividends have increased 88% of the time over the last decade
Return on equity (ROE) – The median return on equity has been about 15%
In comparison the FTSE 100 has grown revenues at about 2% a year over the last decade, increasing its earnings and dividends (I don't have data for revenues) 58% of the time. As for ROE, I don't have ROE data for the FTSE 100 in aggregate, but the 10-year median…

Unlock this article instantly by logging into your account
Don't have an account? Register for free and we'll get out your way
Disclaimer:
This article is for information and discussion purposes only and nothing in it should be construed as a recommendation to invest or otherwise. The value of an investment may fall and an investor may lose all their money. Any investments referred to in this article may not be suitable for all investors.  Investors should always seek advice from a qualified investment adviser.
---
---

The Sage Group plc is a United Kingdom-based company, which provides integrated accounting, payroll and payments solutions. The Company also provides the option of solutions hosted locally and accessed on-premise. The Company's segments include Europe, which consists of France, the United Kingdom and the Ireland, Spain, Germany, Switzerland, Poland, Portugal and Sagepay; and International, which consists of Brazil, Africa, Australia, the Middle East and Asia. It provides solutions that help businesses of all shapes and sizes to manage accounting and finances, manage payments, manage people and payroll, and manage the entire business. Its accounting solutions include sage One, sage Live and sage X3. Its payment solutions include sage Pay and sage Payments. Its payroll solutions include sage One Payroll, sage 50 Payroll and sage X3 People. more »

LSE Price