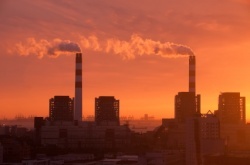 Whilst monitoring my screens, I couldn't help noticing that global markets were rather weak today. Besides gloomy forecasts from the Fed and downward revision of BoE growth numbers for the UK, I wondered what might be causing this weakness....
I came across this Bloomberg article: http://www.bloomberg.com/news/2010-08-11/china-industrial-output-growth-weakens-on-curbs-inflation-rises-to-3-3-.html
China Output Growth Weakens; Inflation Accelerates
Scary headline, huh? Now lets have a look what the text actually says:
China's industrial output rose the least in 11 months, retail sales growth eased and new loans climbed less than estimated, adding to signs that a slowdown in the world's third-biggest economy is deepening.

Production rose 13.4 percent in July from a year earlier, the statistics bureau said in Beijing today. Inflation quickened to 3.3 percent, the fastest in 21 months, boosted by a low year-earlier base for comparison and rising food costs...
[my bold]
[sarcasm] OMG growth of ONLY 13.4%!!! I'd better sell all my commodity-reelated investments immediately! With growth falling off a cliff like that demand will collapse! [/sarcasm]
Comments by Rio Tinto's Tom Albanese later in the article make a little more sense to me:
Tom Albanese, the chief executive of Rio Tinto Group, the world's third-biggest mining company, said Aug. 5 that economic growth of between 8 percent and 9 percent would be more sustainable for China, limiting bubble risks.
Now let's see what babies have been thrown out with bathwater today...
Mark
Disclaimer:
The author may hold shares in this company, all opinions are his own and you should check any statements that appear factual and not rely on them before making an investment decision. The author is NOT a qualified analyst nor authorised to give investment advice. Whilst the author is a director of ShareSoc, all views expressed are entirely his own and not necessarily those of ShareSoc.
---
---

Rio Tinto plc is a mining and metals company. The Company's business is finding, mining and processing mineral resources. The Company's segments include Iron Ore, Aluminium, Copper & Diamonds, Energy & Minerals and Other Operations. The Company operates an iron ore business, supplying the global seaborne iron ore trade. Its Iron Ore product operations are located in the Pilbara region of Western Australia. The Aluminium business includes bauxite mines, alumina refineries and aluminum smelters. Its bauxite mines are located in Australia, Brazil and Guinea. The Copper & Diamonds segment has managed operations in Australia, Canada, Mongolia and the United States, and non-managed operations in Chile and Indonesia. The Energy & Minerals segment consists of mining, refining and marketing operations in over 10 countries, across six sectors: borates, coal, iron ore concentrate and pellets, salt, titanium dioxide and uranium. more »

LSE Price